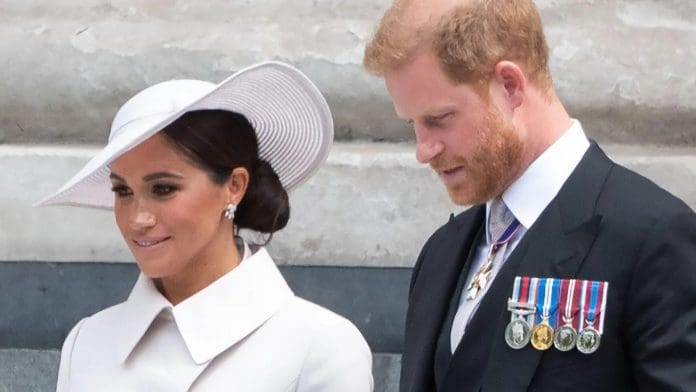 Prince Harry appeared "very dissatisfied" during the Platinum Jubilee because he "misses" the Royal Family's pomp and ceremony. The assertion was made by royal analyst Neil Sean, who claimed that Harry was "not at all thrilled" with the life he had to return to in California. Mr. Sean told Fox News that the Platinum Jubilee's grandeur and spotlight made him realize how much "he missed this life."
On Friday, Harry and Meghan made their lone public appearance of the Platinum Jubilee during a thanksgiving service at St Paul's Cathedral.
On their first trip to a royal function since their departure in 2020, the pair was not greeted with a warm greeting and were booed as they exited the cathedral.
Prince William and Kate Middleton, his brother and sister-in-law, earned the morning's loudest applause. On their first appearance at a royal function since their departure in 2020, the pair was not received warmly.
A Testing Reception For Prince Harry
Now, upon their return, press attacks, a host of injunctions, and unsuccessful TV deals are waiting for Prince Harry and Meghan, according to Sean. He continues that this can not feel nice, and no matter his statements about this life feeling like a trap, he was quite snappy when he rushed back into the limelight. Sean also claims that that was the true feeling among the royal circle on the day.
The Sussexes traveled to the United Kingdom to commemorate the Queen's reign reaching 70 years. She is the first British monarch to accomplish this feat.
The Duchess and Duke of Sussex were booed as they left the Thanksgiving Service on Friday. During the couple's return, there were a lot of jeers. The pair appeared as brave as possible as catcalls drowned out the bells.
Following the crowd's reaction, Markle and Prince Harry skipped the Guildhall reception after attending the Thanksgiving Service.
Since Harry and Markle do not serve as the royal family's senior members, they were not invited to the balcony of Buckingham Palace for the Trooping the Colour event on Thursday.