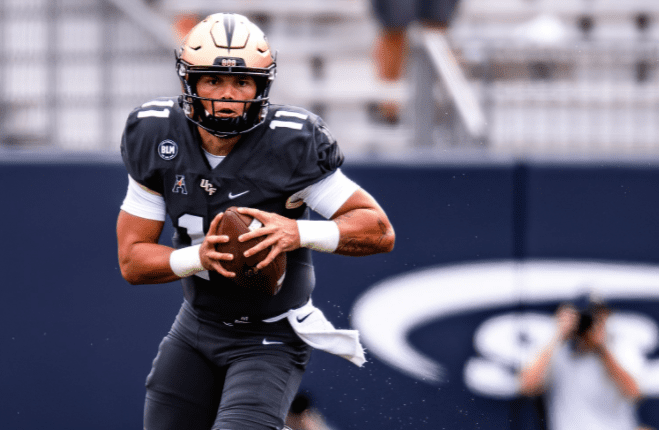 On Monday, QB Gabriel made his transfer to Oklahoma public. Eighteen days earlier he had announced his desire to move to UCLA. Dillon Gabriel joined the transfer list on November 27. He had spent 3 years with UCF's program. 
After more than a fortnight of joining the transfer poll, Dillon announced his hopes to join UCLA's program. Since Gabriel did not enroll at UCLA, he was able to join Oklahoma. Transfers do not require documents that bind the players to their chosen school. 
Parker McQuarrie, Ethan Garbers, and Chase Griffin are on UCLA's roster. Dorian T Robinson will also be playing for UCLA. 
Dillon Gabriel's Decision To Shift To Oklahoma 
Dillon Gabriel played 12 games for UCF back in 2019. He was a fresher when he started. The following year, Gabriel played in all ten games. He ended the year with 32 touchdowns, 4 inceptions, and 3570 yards. 
On September 17, Dillon Gabriel fractured his left clavicle. His team was playing against Louisville. He missed nine games of the last season because of it. In three games, Dillon recorded 814 yards, three inceptions, and nine touchdowns. 
Dillon Gabriel's decision to change schools was announced the same day Caleb Williams joined the transfer list. Sooners' freshman QB Caleb Williams announced that he is hoping to explore all his choices. Rejoining Oklahoma is one of his options. 
Brent Venables, Sooners' new coach, has seen Spencer Rattler leave. He may have to see Caleb Williams leave too. Dillon brings talent to Oklahoma's football team. 
Jeff Lebby, offensive coordinator, and Dillion Gabriel will reunite. From 2018-2019, Jeff was the offensive coordinator and QB coach at UCF. Thus, the two are familiar with each other's strengths and weaknesses. 
Venables has also added ESPN 300 QB, Nick Evers. He is the 134th overall recruit in the batch of 2022.