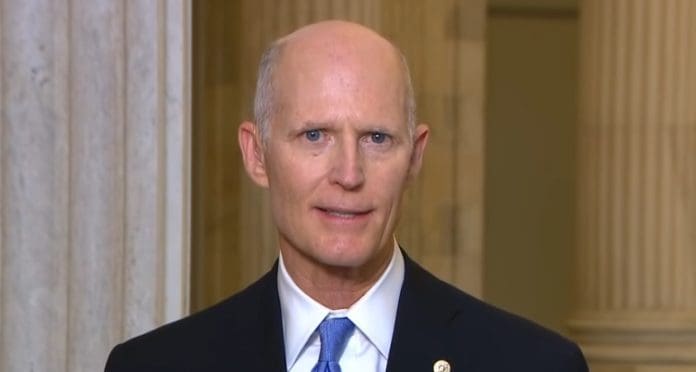 Republican Senator Rick Scott brushed aside the racist attack against Mitch McConnell's wife and his attack on the senior Republican leader. While the Senate minority leader maintained silence on the issue, the offhand dismissal by the Florida Senator points to the Republican double standard on the issue.
Rick Scott spoke dismissively on the issue and said that Trump normally gives such nicknames. the Senator leads the campaign arm of the Senate Republicans and pointedly avoided criticism of their supreme leader.
Rick Scott Went Off On A Tangent When Repeatedly Asked About The Issue
When asked by host Margaret Brennan on 'Face the Nation' if he would rebuke the comment made by the former president, Scott said that Scott went on a tangent and spoke about bringing people together. He then pivoted to speaking of Vice President Kamala Harris and her comments on the Florida hurricane.
When pressed on the matter, Rick Scott repeated his statement that we need to figure out how people can be brought together. Earlier Trump has said that McConnell had a 'death wish' for supporting Democrat-sponsored bills. He referred to McConnell's Taiwanese-born wife as Coco Chow.
Rick Scott generalized the issue and said that it was never ok to be a racist. He kept hamming and diverted to issues of inflation and excessive spending by the Democrats. He said that like everyone else, the former president also had a nickname for Scott.
The only time he closes to commenting on the incident after repeatedly being asked was that leaders should be careful in public about how to say things. He said that leaders need to be more inclusive. He spoke for himself and he said that tries to make sure that everybody believes in the dream that the US is. He hoped that nobody said anything inappropriate. In the end, one came off with the feeling that Republicans consider it to be ok to be racist and they have a ready answer to it or are outright dismissive in most cases.