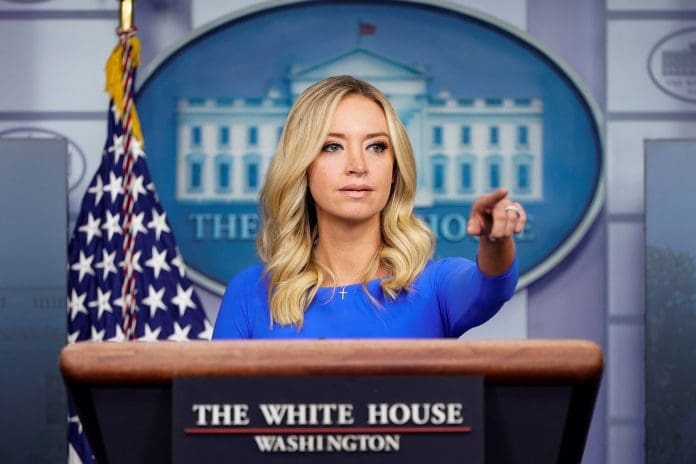 Of many conservative commentators in today's media, Kayleigh McEnany is one who has made daring strides in her careers as a journalist, spokeswoman, and commentator. Like many of her conservative colleagues, she herself has seen her share of controversy in the media, from her right-wing stance to her sudden advocacy for former and controversial president Donald J. Trump. 
At 31, she has made waves both positively and negatively. Though, despite her drawbacks and the criticism aimed towards her, she is still persistent in her conservative views, and shows no signs of stopping.  
So, who is Kayleigh McEnany ? And how did she go from being a journalistic hopeful to the subject of public debate and media ridicule?

Humble Beginnings 
Born in Tampa, Florida in 1988, Kayleigh McEnany lived with her parents Michael and Leanne McEnany, who were proud owners of a commercial roofing company. She was raised under Catholicism. This religious upbringing involved attending the Academy of the Holy Names, which was a private Catholic school for girls. 
Georgine Simmons, a conservative studies writer and business analyst at Write my essay, documents this definitive upbringing: "Kayleigh is one of many people who were born and raised in a conservative home. As such, conservative families are more likely to send children to private or charter schools send children to private or charter schools as a means to instill traditional values into them. So, much of Kayleigh's upbringing has to do with religion and prosperity, rather than a hatred for America and its history." 
Schooling 
McEnany took pride in her schooling, as well as the structure that her family had established. However, her commitment to conservatism blossom as she grew up. At age 16, she embraced conservative ideas and beliefs.  
McEnany eventually went into international politics, and pursued a career in that subject at Georgetown University's School of Foreign Service in Washington, D.C. It was through that pursuit that she studied abroad at St. Edmund Hall in Oxford. However, it was at Oxford where she had gained the most influence in politics. British Shadow Home Secretary Nick Thomas-Symonds was her guide in politics. 
After spending time at Georgetown, and graduating from there with a Bachelor's of Science degree in international politics, she returned to the U.S. and went on to be a producer for the Mike Huckabee Show. As a producer, she had spent 3 years under the wing of American politician and Former Governor of Arkansas, Mike Huckabee. It was with that job as a producer that she would get even more serious with politics.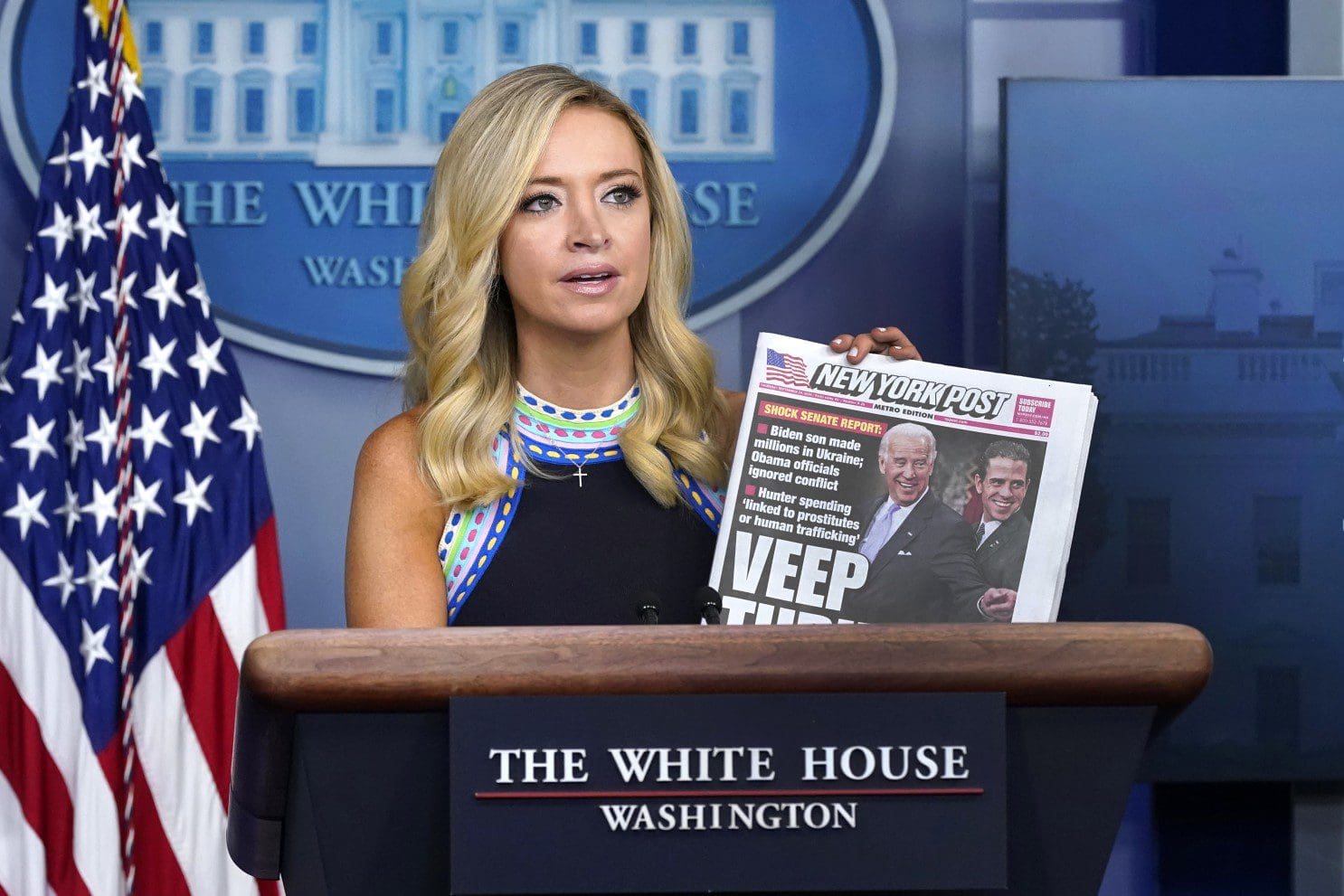 Road To Politics 
Following her 3 years as producer of the Mike Huckabee Show, Kayleigh McEnany attended the University of Miami School of Law, where she had her mind set on entering the world of politics.  She eventually transferred to Harvard Law School, where she would graduate with a Juris Doctor degree in May 2016. 
"Kayleigh had found inspiration in politics from many of her mentors during her school years in higher education," adds Simmons. "If there was anything political on the radar – especially when it comes to international affairs, she would take interest. In her years as a producer for Mike Huckabee's show on Fox News, she had taken heavy interest in politics, in addition to her written contributions to many related publications." 
This fascination will follow her as she works her way up the network ladder, and she would eventually take her conservative views with her. 
Working Her Way Up 
Her most crucial job in politics was her role as a political commentator for left-wing news outlet CNN. However, her tenure at CNN would prove to be difficult. Her conservative views were as popular in the liberal news outlet, and she was often butting heads with many multiple personalities and guests that would be interviewed. Besides her occasional spats with various interviewees, her biggest bombshell interview was with New York Times columnist Charles Blow on CNN Tonight with Don Lemon (now called Don Lemon Tonight). 
When Kayleigh McEnany had proceeded to telling about how her liberal friends weren't being fair to her, Blow rebuked her by saying not to "touch [him]" and to accuse him of "sinister motivations," calling those gestures a "very personal attack." McEnany, of course, seemed unmoved by this accusation. 
McEnany also had heated debates with CNN host Van Jones. However, their most heated debate was during and after the November election of 2016. At the time, Jones would accuse McEnany of taking his statements out of context, and even twisting his words to make him look bad. Despite their previous friendship, many colleagues (especially those at CNN) have speculated that that may have come to an end once the 2016 election was over, with Jones rebuking McEnany for misrepresenting his statements. 
However, these rebukes didn't stop McEnany from making waves on television. She eventually went on to advocate for former president Donald Trump – from his conservative agenda to his occasional controversial spats caught on video and audio. Since Trump had taken office, she continued to voucher for the controversial president.  
But then, as a shocker to some viewers and staff of CNN, she had suddenly left her job at the news outlet on August 5, 2017. She wrote on Twitter that she had "enjoyed [her] time on CNN" and that she was moving onto "a new role." 
What this "new role" was going to be was weighing on the minds of viewers and CNN staff. Regardless, spectators didn't have to wait long, as she returned to social media on August 6 in a pro-Trump video. In her video, she touted how Trump was bringing jobs back, how the market was doing well because of this, and other examples of him "winning."  
"The reception of the was mixed," says Simmons. "Trump supporters gave her praise, while adverse viewers were still wary about her sudden departure from CNN." 
But this wasn't the first time that she had strong connections to the White House…  
Alongside Presidents 
Kayleigh McEnany had previously interned for many high-ranking politicians, including former U.S. President George W. Bush. During the Bush administration in 2004, McEnany volunteered for the former president's reelection campaign when she was only a sophomore high school. From there, she interned in his White House communications office, even escorting then New York Giants quarterback Eli Manning to the Oval Office.  
So, her sudden support for then-president Trump came as almost no surprise to onlookers, since she had voiced her conservative views, much to the dismay of her CNN colleagues. Acting as a Trump surrogate, she would appear in left-leaning and anti-Trump platforms, promoting Trump and debating with various commentators. But with her new status as Trump's surrogate came instances of public backlash… 
Feeling The Heat 
During her time as Trump's surrogate, McEnany saw her share of controversy herself like other high-profile Trump supporters. In 2017, she had come under fire for falsely claiming that late journalist Daniel Pearl had died under former President Barack Obama's watch, when Pearl was slain by jihadists in 2002 – before Obama took office. She later redacted her statement, saying that she had meant to mention James Foley, not Pearl, since Foley was killed by ISIS in 2014. Afterwards, she would publicly apologize on Twitter on March 28, 2017, saying that both Foley and Pearl "lost their lives to terrorism" while calling for leaders to honor them.  
More fuel was added to the fire when she was announced as the national spokeswoman in the Republican National Committee in August 2017. In her new position in the RNC, she was named the White House Press Secretary for the Trump administration, saying in a press release that she was "eager to talk about Republican ideas and values" and have "important discussions about issues affecting Americans…" 
More Controversy 
Despite her promotion, Kayleigh McEnany continued to spark controversy. 
In June 2018, after Alexandria Ocasio-Cortez unseated then-Rep. Joe Crowley in their Democratic primary, McEnany called it evidence of a "red tsunami," meaning that the GOP would see a resurgence.  Ridiculed by critics for this supposed-outlandish claim, she refused to redact her claim, insisting that the GOP will rise up, and even accusing Ocasio-Cortez of being a democratic socialist.  
Not long after, she would go on to claim that Democrats was in league with Russian President Vladimir Putin in a scheme to vote illegally in American elections. She even believed that with Trump as leader, the coronavirus wouldn't come into the country, of which U.S. federal health officials told otherwise citing the severity of the outbreak. 
Though, despite McEnany insistences of her statements being true, the final days of Trump's presidency would prove to be taxing…  
During Trump's Last Days In Office 
During the 2020 election between President Donald Trump and then-Vice President Joe Biden, McEnany continued to endorse Trump, touting his many wins during his time in office. However, frustration was mounting during this heated election, so much so that while ballots were still being counted on Election Day, she had declared Trump's victory prematurely. But this declaration was derailed, once the votes and the media saw Joe Biden as the victor. Regardless, this didn't stop her from spreading claims that there was election fraud. Adding more fuel to this fire was then-President Trump's refusal to concede, agreeing that there was fraud in the election, and even deliberately delaying the start of a transfer of power to president-elect Biden. 
Worst to come was the 2021 storming of the United States Capitol, which had shocked the nation, and had critics and commentators alike calling for Trump's head. Forbes writer Randall Lane was reported to have warned corporations against hiring the likes of McEnany and Sarah Sanders for "[lying] for Trump." However, in March 2021, post-Trump presidency, McEnany eventually returned to Fox News as an on-air contributor, and then as a co-host of Outnumbered with Harris Faulkner and Emily Compagno. 
Personal Life

In her personal life, Kayleigh McEnany is married to Major League Baseball pitcher Sean Gilmartin since November 2017. During her first year of marriage, she was diagnosed with a BRCA mutation which could lead to a greater risk of breast cancer. It was then in 2018 that she underwent a double mastectomy to prevent the mutation from affecting her. Fortunately, the double mastectomy didn't stop her from giving birth to a daughter named Blake in November 2019, about 2 years after her marriage to Gilmartin. 
Published Work 
McEnany's most prominent contribution was her 2018 book, The New American Revolution: The Making of a Populist Movement, where she writes about the most powerful American stories being forgotten or ignored by today's American leaders. Her book also touches on current issues such as illegal immigration, religious freedom, and safety from terrorism. The book mentions key figures within the Trump administration, interviewing each of the following: 
Ivanka Trump

 

Secretary Ben Carson

 

Jared Kushner, etc.

 
Their interviews paint a predominant picture of the road leading to the historic win of Donald Trump in the 2016 election. They also paint a picture of how bleak the road was with a deep divide between leaders and citizens. It's in this book that McEnany attempts to light a candle in a time of darkness, and to find unity and humanity in the middle of political unrest and turmoil. 
So far, The New American Revolution has received a fair reception among readership, with a 4.7-out-of-5-star rating on Amazon.  
Conclusion 
Kayleigh McEnany has proven to be one of the predominant voices in the conservative movement in the United States. From her rocky road through journalistic ventures, to her fiery feud with left-wing news and media, to running into the open arms of her conservative contemporaries, McEnany has stood firm in her claims and statements, much to the dismay of liberal and left-wing colleagues and adversaries. With that said, her controversial claims and views came with consequences, with liberal commentators calling for her career, while left-wing critics called for her cancellation from any form of media. Nevertheless, she takes refuge in right-wing network, Fox News, among other conservative personalities. 
Kayleigh McEnany serves as a testament for conversative voices pushing the boundaries of left-wing politics, and challenging said ideology, even after the Trump era, thus establishing her as political.