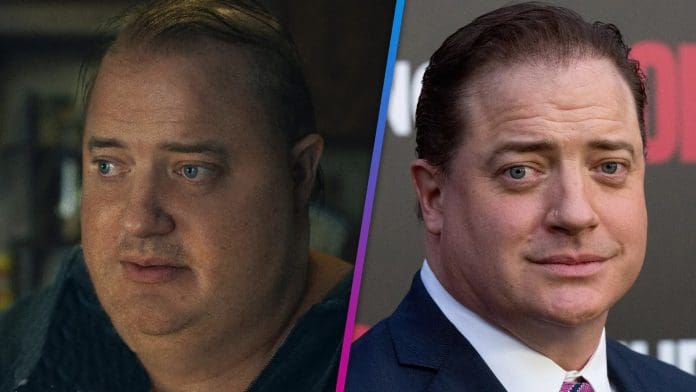 The Whale, directed by Darren Aronofsky, features Brendan Fraser in the first trailer of the movie. The actor plays an obese recluse in the A24 production who struggles to repair his relationship with his 17-year-old daughter. It's his first main part in a movie since taking the reins in Breakthrough back in 2013, and he co-stars with Stranger Things breakout Sadie Sink. Later this year, The Whale will make its world premiere at the Venice Film Festival.
The photograph, which was shared on social media, teases Brendan Fraser's transition into the 600-pound main character Charlie, and after all the changes made for the movie, he appears nearly unrecognizably different. His dedication to the impending movie is clear from his thinning, styled-back hair, considerably larger frame, and longing expression for better times. He previously discussed with Unilad the laborious process of entirely changing his appearance for the movie, adding, that the costume and wardrobe were comprehensive, seamless, and heavy, it was very different from anything he has ever done. He's certain that it will leave a lasting effect.
Brendan Fraser Has Undergone A Remarkable Metamorphosis
Samuel D. Hunter wrote the screenplay from which Aronofsky will adapt The Whale, which is based on his play of the same name. Hunter's piece focused on Charlie, a writing instructor whose connection with his daughter Sink (and his family as a whole) soured after he left to live with another man. Charlie consumes himself out of remorse and grief after his beloved passes away, slowly killing himself as he grows too large to even move. Ty Simpkins, Samantha Morton, and Hong Chau join Brendan Fraser and Sink in The Whale.
The Brenaissance feels more tangible than ever with the first glimpse of his most recent big role. Although he had previously been gradually making his way back with appearances in programs like Doom Patrol, the star made his big-screen comeback with the Steven Soderbergh-directed No Sudden Move back in 2021, joining actors Don Cheadle, Benicio Del Toro, and David Harbour.
At the same time, it's kind of a comeback for Aronofsky, whose most recent film, Mother!, was released in 2017. The intimate aspect of the plot makes The Whale feel very much like the style of the Oscar-nominated director, who has also directed movies including Pi, Black Swan, and Requiem for a Dream.