Sports require a lot of competitiveness and real-time experience. If you want to be a competitive sports fan, make sure not to miss any moments of the game.  
We've entered an age of streaming and cord-cutting offers almost no real limitations from a content perspective. 
Easily stream full movies and cartoons without a cable connection, while live sports are just as accessible online.  
Streaming services allow users to watch sports on their terms, but there are so many to choose from that it can be difficult deciding which ones suit your needs. 
Comparing which streaming service is the most appropriate for sports enthusiasts, you have a variety of options.  
The NFL Game Pass might be right for you if watching football is your main concern, or ESPN+ can fulfill your need for all live sporting events on ESPN network channels. 
It is not possible every time to watch sports especially if the streaming service is geo-blocked in your country.  
For example, ESPN is a U.S.-based sports streaming service but you cannot watch ESPN outside the U.S. not even in their neighboring countries like Canada. 
In order to experience ESPN in Canada or anywhere outside the U.S., you need to use a VPN service. 
A VPN changes your IP address and unblock geo-restricted content in your country by giving you a local IP from your selected region, in this case, it will be U.S. 
By using a VPN, you can easily access geo-restricted content without any restriction and make your sports streaming entertaining. 
To stream sports seamlessly, you must have information regarding factors that need to be considered while streaming the sports. 
Factors To Consider While Streaming the Sports: 
 If sports is your favorite thing to watch as an avid sports fan, it can be a confusing subject if you either don't have cable or are watching from another device. 
To stream live TV and sports games with ease, you need three things: 
A) Selecting The Right Streaming Service. 
B) Fast Internet Connection 
C) Devices To Stream Sports Channels 

Selecting The Right Streaming Service: 
Streaming live sports can be challenging: many contracts exist between streaming providers and broadcasters, which means that much of the time you won't have access to games based on your location. 
When you're looking into live sports streaming services, make sure your region is available before committing. Increasingly, leagues offer packages for viewers who reside outside of a team's market. 
Once you've decided which networks you want, checking which streaming services offer those channels is the next step.  
Unfortunately, there may be some overlap in blackouts based on the region so it's important to research restrictions from any streaming service before investing in your subscription package. 
Top Most Streaming Services: 
The topmost streaming services must have the following features: 
Must offer a variety of sports Channels 
A quite reasonable price for the number of channels you are entitled to 
Must have an additional subscription plan for extra sports channel 
Must have a DVR with enough storage. 
Should offer the channels, which are suitable for the entire family. 
Based on the above selection criteria, we have selected the following 5 topmost streaming services. 
YouTube TV: 
Hulu + Live TV: 
Sling TV: 
FuboTV: 
AT&T TV: 
1. YouTube TV: 
YouTube TV is the second-best choice for sports fans because it features three major networks- ESPN, ESPN2, and FS1 at a price tag of $65 per month only.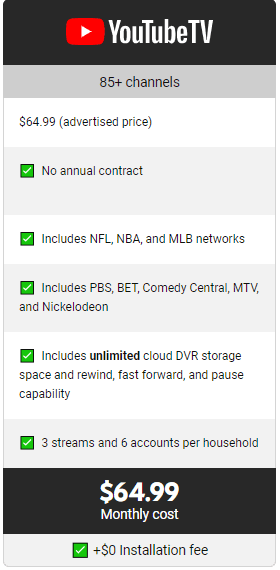 2. Hulu + Live TV: 
Hulu + Live TV is the best service for combining sports and entertainment. If you can't get ESPN in Canada, Hulu Live will give you the option of adding in Disney+ and ESPN+, giving live broadcast sports through a streaming service. Hulu Live T also offers a 7-day free trial to its customers. 
3. Sling TV: 
The best budget-friendly option for streaming is Sling TV. The costs are low, and the quality of service is high. 
Sling TV offers three different levels of packages for sports fanatics; 
Sling TV Orange Plan costs $ 35 per month and it includes four sports channels; 
Sling TV Blue Plan also costs $ 35 per month with some additional sports channels; 
Sling TV Orange + Blue plan costs $50 per month and includes most of the best-loved sports channels; 
By paying an extra amount of $15, you can enjoy additional sports channels such as ACCN, beIN Sports, ESPN Bases Loaded, ESPN Goal Line, and many more. 
4. FuboTV  
If you want to have the best sports experience, FuboTV will give you all of your favorite sports channels. FuboTV, with its 50 channels of sports coverage, provides you with all the sports you need to watch.  
The Sports Plus add-on will give you even more sync channels. FuboTV offers 19 additional sports channels at just $11 per month. FuboTV TV offers a 7-day free trial. 
5. AT & T TV: 
 For sports and premium channels, AT&T TV is the most effective choice. AT&T offers a TV with HBO Max for the fans of Westworld and Euphoria, but it's more expensive than other providers. 
AT & T TV has Entertainment, Ultimate, and Premium packages according to the needs of its clients.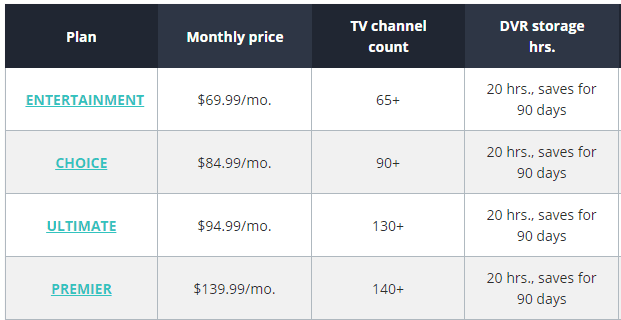 B) Fast Internet Connection:  
Before we get to streaming, let's take a moment to talk about your internet connection. Streaming live TV on desktops, phones and tablets require a strong internet connection to avoid buffering stream experience. To stream successfully you'll need at least 1MB/s of upload/download speed. 
Without the right speeds, all of our best recommendations are going to be useless and none of them will work. 
To stream in SD (Standard definition), you will need an internet connection of at least 3 Mbps. 
To stream videos in high definition (HD), you will need internet speeds of at least 5 Mbps. 
To stream videos in HDR or 4K, at least 25 Mbps of Internet Speed is necessary. 
C) Devices To Stream Sports Channels 
To stream different sports channels, you need to have the following devices: 
i ) Streaming Devices: 
Streaming devices like Amazon Fire and Roku lets you watch every streaming service in one place. Unlike a smart TV or computer, these gadgets give you an easy-to-navigate interface for streaming apps that allow you to search across all services with a simple click of your remote. 
 ii) Smart TV 
The most popular way to stream live TV and sporting events are through a high-tech "smart" TV — these allow you to browse sports Channels like ESPN, beIN Sports, BBC iPlayer, Kayo Sports, Sky Sports, and many more depending on the brand. 
iii) Gaming Console: 
Gaming consoles are not a good way to stream video. They're usually just a secondary thing, so they're hardly worth it if you don't already have one. 
Conclusion; 
We hope this blog post would be helpful for you to get the maximum benefits while you stream your favorite sports online.  
By considering the discussed points in this post, you can get the most out of streaming sports and can enjoy watching your favorite teams on the ground.