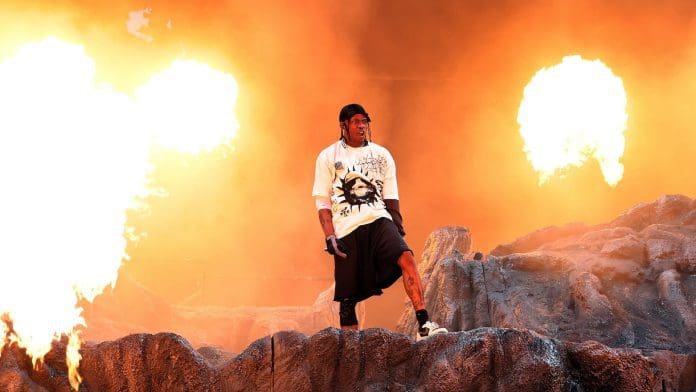 The American rapper, Travis Scott, is gearing up to take the stage after a couple of years since the tragedy that took place during his concert at Astroworld. This was the same ill-fated concert in Houston which left 10 dead and about hundreds injured in 2021. On Wednesday, the rapper went on to announce that his tour for Utopia– Circus Maximus will kick off on the 11th of October in Charlotte, North Carolina, and then finally culminate in Toronto, Canada in December.
He would be performing in about 28 North American cities, according to a press release. The tour would be following the live performances of the rapper at the Circus Maximus in Rome, Italy just earlier this month, wherein 60,000 tickets were sold in just a couple of days- sparking fears of an earthquake.
Travis Scott Is Back Again And will Be Headlining A Tour That Goes Through 28 American Cities
This tour announcement marks the first official tour for Travis Scott since the deadly Festival at Astroworld, one concert which the rapper both headlined and organized. That concert, as it has been flashed ever since, turned into a pit of chaos quickly as the concertgoers present during the performance of the rapper were crushed, with several struggling to breathe- since people crowded near the stage. Later, the turmoil prompted all the officials to declare this concert as a mass casualty event.
In late June of 2023, Travis Scott was finally cleared of all criminal charges by the Houston District Attorney's office, which Kim Ogg, the DA mentioned during a press conference at the time. However, he has been facing quite a series of civil lawsuits which were brought forth by many of the victims' relatives and immediate families.