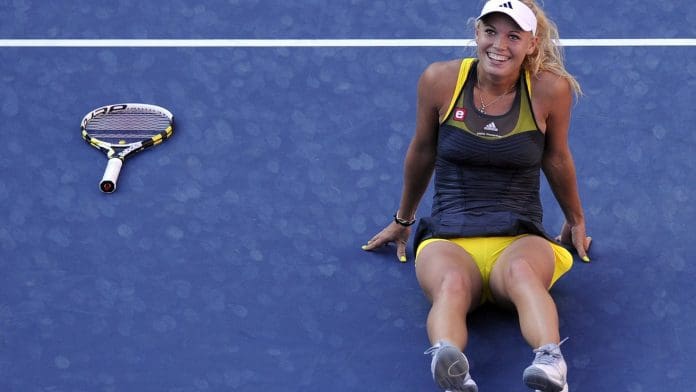 It does look like Caroline Wozniacki made the right decision to come out of her retirement and get back again at the US Open, as she has already made it to their round at Flushing Meadows after she beat two-time Wimbledon Champion Petra Kvitova at the Arthur Ashe Stadium on Wednesday.
After finishing off the biggest victory that she had over the last three years, all she could do- as she was overwhelmed by her emotions- was to sit by the sideline, and cover her face with both her hands. Then, she looked back at her husband and father sitting with the spectators, and she realized the significance of her win. It would not be appropriate to forget her children as well- as she wears a couple of gold chains- each carrying a name written in cursive- James, for her 10-month-old son, and Olivia, for her 2-year-old daughter.
Caroline Wozniacki is Back After A Three Year Hiatus
After her victory, Caroline Wozniacki stated that there was no way this could be better. For her this was a dream come true- and if anyone asked her about this a few years ago, she would have probably told them that she would never be back here- playing on this particular court. The 33-year-old Danish player had previously won the Australian Open in 2008 and also reached No-1 in the rankings during that tour. But then, she left the game in 2020 in order to start a family with David Lee, and then spent some time working as a TV analyst.
Caroline Wozniacki currently stands at No. 623 in the world, and she is back at the Flushing Meadows, after her last game in 2019. She was the runner-up at the US Open in 2009, when she ended up losing to Kim Clijsters, and then in 2014 when she lost to her friend and rival, Serena Williams.