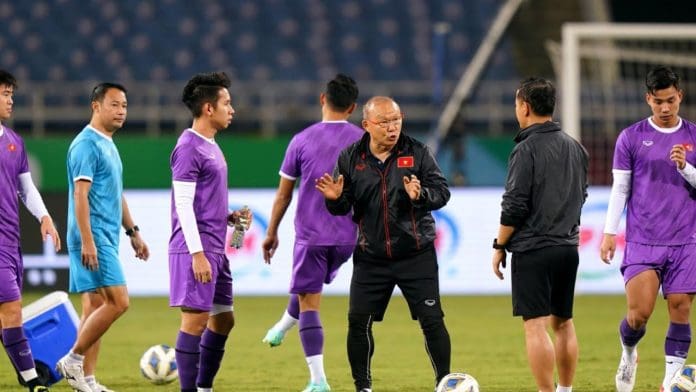 Vietnam coach, Park Hang-Seo replaced defender Nguyen Thanh Binh with Bui Hoang Viet Anh ahead of the World Cup qualifier against Saudi Arabia on Tuesday.
Viet Anh is currently 22 years old and has rich experience in the V League. He is also a regular starter for Hanoi FC, which is one of the top domestic clubs in the nation. The young defender was called up to the national team multiple times but has never played a part in the World Cup qualifiers. This will be his first opportunity to shine.
Viet Anh Will Replace Thanh Binh In The Vietnam Defense
Thanh Binh is 21 years old and was given the opportunity to play in the second half of the match against China last month. He made several mistakes which ended up with them conceding 2 goals against China and winning the game 3-2. He was later moved to the Under-23s team. Thanh Binh performed well during the Under23 Asian Up qualifiers and was later called back to the Vietnam National Team in the match against Japan, last Thursday. Vietnam lost the game 1-0.
They are presently in the last position in Group B and have lost all 5 matches so far. The next game is against Saudi Arabia, who are topping the group with 13 points to their name.
Vietnam managed to score the first goal in the first leg, which was played on the 2nd of September. Nguyen Quang Hai scored the first goal in 3 minutes, but a red card and a penalty cost Vietnam the game as Saudi Arabia scored thrice to win 3-1.
Vietnam will be playing at home, this time at My Dinh Stadium in Hanoi. The game will begin at 7 pm and will be telecast live on VnExpress International.