Retirees are always looking for the best place to retire. The recent trend has been towards warmer climates, coastal towns and cities, and those with a lower cost of living. But what about golfers? What's the best destination for them? We will be reviewing some of the most popular places in America as well as abroad to see which is the best spot for retirees who love to play golf. It will also include statistics on living costs, weather conditions, and availability of courses nearby so that you can make an informed decision before you buy that retirement home! 
Florida: Florida has been known as a popular retirement destination, but what about those who love spending their days on the green? Where can they go in Florida that will make both of these dreams come true without breaking the bank (or taking out an equity loan)? 
Well, if you're looking for affordable luxury, then look no further than St. Augustine, located near some of North America's most beautiful courses! If sunny beaches are more your style, then head south down to Boca Raton, where there are over 30 public access courses within a minute's drive of one another. Palm Coast also offers excellent weather and world-class golfing year-round, so it really depends on your preference when choosing which town makes a great retirement home. 
Arizona: The great state of Arizona offers many retirees some fantastic options. Many people flock to Scottsdale because of its location near the TPC course at Troon North, but there are plenty more courses like Desert Mountain within the close distance as well. The same goes for Mesa, where you can enjoy both public and private access courses that will make your days on green feel like a true vacation! Wherever you choose to go in this sunny retirement destination, keep one thing in mind; it's always hot out here, so be sure not to forget your sunscreen! 
South Carolina: South Carolina is another state that's well-known for its golf courses. If you're looking to retire in the United States, this may be your best bet! Myrtle Beach has great access to some of America's favorite courses like Caledonia Golf and Fish Club and Country Club North, as well as many more nearby options. 
Because it doesn't get too hot here during summertime, make sure you think about when will be a good time for you to visit before making any decisions on buying a home or renting an apartment near one of these fantastic rounds! You can check real estate sites for homes for sale in Myrtle Beach on golf course so that you get a perfect fit for you.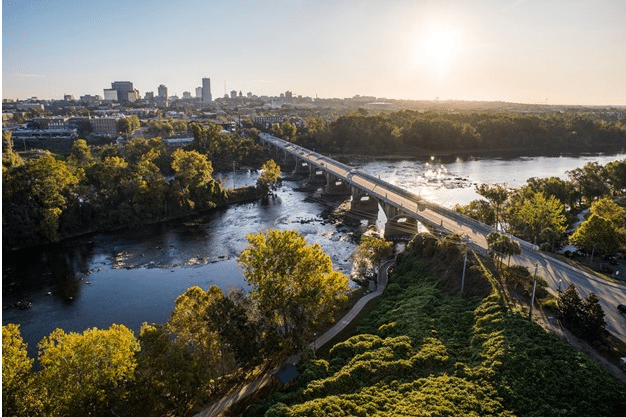 North Carolina: It doesn't have quite as many fantastic courses, but North Carolina has its own great options. Pinehurst Resort is world-renowned and gives you access to two different courses depending on which one you'd prefer. They are both ranked in Golf Digest's Top 100 Courses You Can Play, so it will be hard not to find something that fits your style no matter what! 
If you want a more laid-back town with warmer weather, then consider Wilmington instead of Myrtle Beach or Sunset Beach along North Carolina's coastline, which also offers several public courses. Wherever you end up deciding, this state has plenty of amazing opportunities if golfing appeals to you! 
California: Although you might not think of California as a major center of the game, there are actually many different options available that could fit your needs. Wherever you live in this state, there will likely be some courses nearby, and you also have access to world-class facilities like Pebble Beach, which made Golf Digest's World Top 100 list! If you're looking for something more inland, then consider checking out San Diego, where Torrey Pines offers two fantastic 18-hole layouts with gorgeous ocean views all around. 
New York: Where better to retire than the Big Apple? Where there is a major city, you'll find great golf courses, and New York City has a ton of options. One of our favorites is Bethpage Black, which offers two different 18-hole layouts that have been ranked as some of America's best by Golf Magazine. If you're looking for an option closer to where people might want to move, then consider staying in warmer climates but still play at one of North Carolina's Top 100 public courses with Streamsong Resort! 
New Jersey: Retirees love living along the coast, so if it's mild temperatures, low cost of living, and quality amenities they are after, then look no further than New Jersey. Not only does Jersey have some of the best beaches in America, but there are also a number of great places to play golf while you're living here. 
The Atlantic City Golf Club is one of our favorites because not only can you get a great round at their 27-hole facility that includes two PGA TOUR venues, but they also offer a ton of other adventure opportunities like kayaking and hiking!  
Mississippi: It doesn't really get better than playing at Gulf Shores, Mississippi, where you can expect to pay around $75 for greens fees. With over 100 courses in the state of Alabama, it's safe to say that there are more golfers per capita here than anywhere else in America. Wherever your final destination may be, just remember that Algarve offers good weather for playing outdoor sports all year long, so regardless of where you go, planning out how to spend time during down periods will never be an issue again! 
Georgia: Where there's a will, there's the way! Wherever you choose to retire in Georgia, golfers won't be disappointed. With more than 100 courses and some of them ranked among America's best, it makes sense that this place is considered one of the top destinations for retirees looking for an active lifestyle. Additionally, the cost of living is very affordable so that you can live comfortably on a fixed income. 
Conclusion: With more than 100 courses and some of them ranked among America's best, it makes sense that this place is considered one of the top destinations for retirees looking for an active lifestyle.