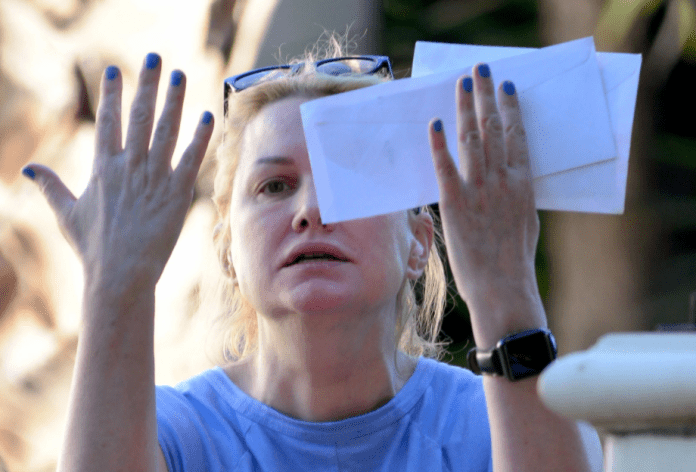 Alice Evans is not letting her husband get away with cheating on her. As her husband Ioan Gruffudd went public with his relationship, she accused him of cheating on him during their marriage.
Alice Evans, who depicted Esther Mikaelson in The Vampire Diaries was furious as Ioan posted his pics with Bianca Wallace on Instagram. They are seen smiling on the sets. He thanked her for making him smile again, while Bianca wrote on her page that she knew a real smile when she saw one.
Alice Evans Had Tweeted Earlier Of The Development
Alice Evans had got wind of the relation between her estranged husband and Bianca. She had written in an earlier tweet, since deleted, that while her husband had accused her of being boring, Ioan was having an affair for 3 years behind her back.
The new couple is yet to speak up about the alleged cheating. But a friend of Bianca has stood up for her. She said that she had known her for years. Bianca maintained that she and Ioan were not even acquainted for 3 years.
Alice Evans hit back, saying that Bianca's friend was being disrespectful and scornful towards the victim. She said that she was sure that they had been seeing one another for quite some time. She was willing to talk about it.
Alice Evans married Ioan in 2007. She had earlier taken to Twitter to convey the 'sad news' that her husband of 13 years had left her and the kids. She said that her soulmate and husband, who knew her for 20 years, had announced that he was leaving them in the tweet that she has since deleted.
She said that she and her young daughters were very sad and confused about the development. She said that Ioan gave her no reason except to profess his apologies.
Ioan had evaded the issue and only said in a shared post with Alice Evans to merely announce that they were going through a difficult time but remained committed to their children.