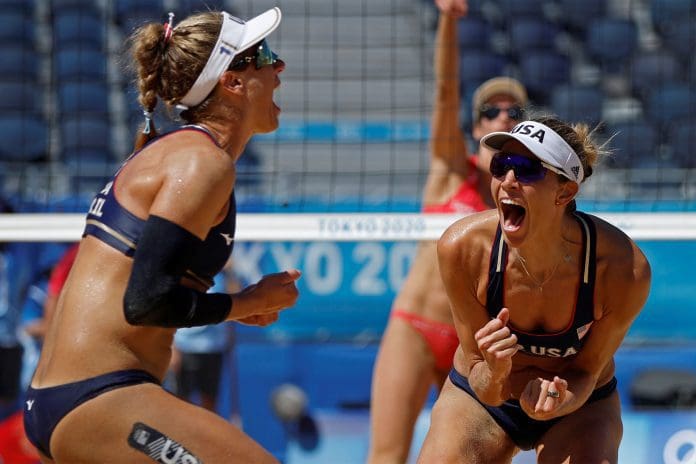 The US beach volleyball team of Alix Klineman and April Ross are on the way to their finals. But this dream had begun after choosing a risky path.
Alix Klineman had chosen to move away from indoor volleyball and switch to beach volleyball. This was in 2017. She had no experience with the beach version but wanted to compete in the Olympics for a medal.
April had a glossy history on the beach. April won the silver with Jennifer Kessy in the 2012 London Olympics and won the bronze in 2016 with Kerri Jennings. April Ross joined with Alix Klineman after moving away from Lauren Fendrick.
The Story About April Ross And Her New Teammate
April Ross needed someone that would work harder every day. She knew about Alix's history and was prepared to take a major risk.
Alix had a strong physique, proper work ethic and could maintain a high intensity during the game. April Ross was impressed after seeing her. She just stuck with her and was persistent. She believed that they could make the changes that the US team was hoping for.
The way Alix worked made April step up her own game. Alix used to go home and watch tons of videos to step up her game, which was followed by April.
This transition took some time but the success was imminent. They won the first tournament they played in which was the FIVB Dela Beach Open, 2018.
April never doubted her partner but the success cemented her decision.
April Ross picked up 15 attacking points while Alix had 9 to her name, in the semi-finals versus Switzerland. They won the game by 2-0. Alix Klineman stepped up her blocking game and got into the faces of her opponents. April Ross believes that Alix was the key to win a Gold in Tokyo. They face their next game against Australia on Friday. They will be playing against Taliqua Clancy and Mariafe Artacho del Solar.