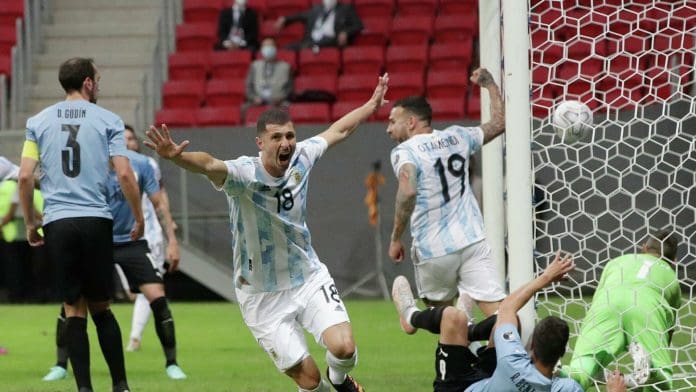 On Friday, the match Argentina Vs Uruguay turned out to be a nail-biter for the fans. In the clash of the group stage of Copa America, a goal scored by Guido Rodriguez in the first half of Argentina Vs Uruguay won the match for Argentina. This is the first goal of Guido Rodriguez in a total of 11 appearances for his national side. The Argentina Vs Uruguay scoreline stood at 1-0 after the end of the ninety minutes.
Rodriguez Played A Key Role In The Clash, Argentina Vs Uruguay!
Since 1989, Argentina has remained undefeated against Uruguay in the cup of Copa America. Uruguay was trailing behind by a goal early in the match between the two sides. Rodriguez managed to score with a beautiful header early in the first half of the match. Since June 2019, the midfielder of Real Betis got his first starting chance for his national side. The decision of the national side to start Rodriguez in this crucial clash seemed justified following his goal. He managed to convert a cross delivered by Lionel Messi inside the box just after ten minutes.
Argentina managed to secure all three points from the match Argentina Vs Uruguay, The neighbors, Uruguay started their Copa America journey with a loss. The game however was lacking severely in excitement. The stadium was also cavernously empty. Uruguay now remains at the bottom of the table with Bolivia. They are both in the A Group. Both the teams have lost two of their matches while playing two matches in total. Argentina now stands at the top spot which it shares with Chile. Both the teams have four points at their disposal. On Friday, Chile managed to beat Bolivia by a score line of 1-0.