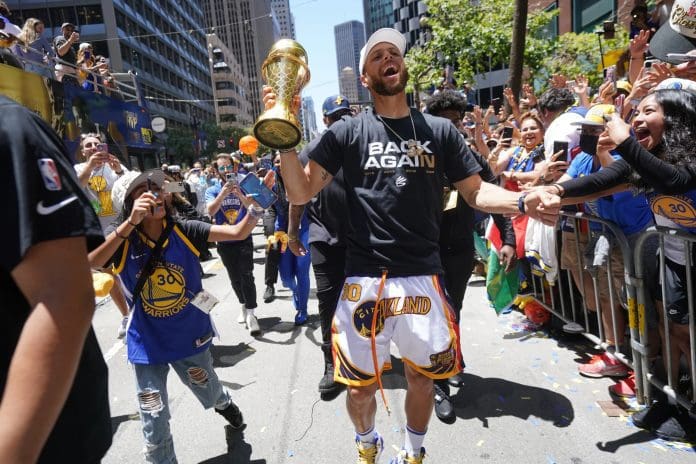 The Bay Area hasn't hosted a Warriors parade in three years, but neither the city nor the Warriors have forgotten how to enjoy the moment. Stephen Curry climbed atop a stairwell at a Muni train station and began pounding on the sign next to him. As blue and gold confetti fell down from the skies, chants of "M-V-P!" rang from every direction.
Highlights of the raucous Golden State Warriors Parade
Ayesha Curry popped a bottle of champagne and sprayed it down on her husband, pointing to a placard that read "Ayesha can cook." Curry and Damion Lee were motivated to clear a space in the crowd and pop their own bottle, showering the spectators in their path.
Golden State won its fourth championship in eight years on Thursday night, defeating the Boston Celtics 103-90 in Game 6 of the NBA Finals. Following the game, Finals MVP Curry, Thompson, and Green – the three key players in each championship run – sat together in celebration during the warriors parade, Curry holding the trophy.
Curry reminded the tiny gathering of team and venue staff at the pre-parade rally, "We represent you guys." It's people's love, and support, that give them motivation. That is exactly what it is all about. Keeping everyone entertained and giving everyone something to cheer for and be enthusiastic about. It gives them the opportunity to achieve things that have never been done before in history while also representing the entire Bay Area.
For the Warriors parade, the players were seated in double-decker buses, but it didn't take long for them to disembark and join the thousands of fans who had been waiting for them since before dawn.
Klay Thompson set the Larry O'Brien Trophy on the ground, took a step back, and danced behind it like Michael Jackson. He then ran away with the trophy, high-fiving, and dancing with any fans who were running alongside him.