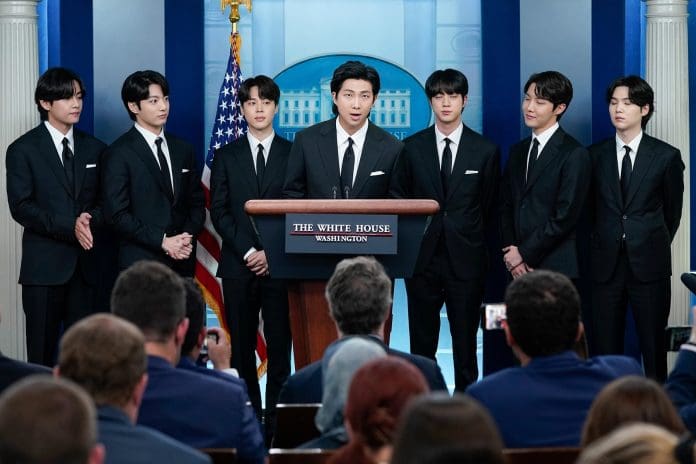 The pop sensation band from South Korea, BTS, had arrived at sleepy Washington, where they gave a rousing speech against Asian hate at the White House. If one were to look at the fans of the band as they braved the sweltering heat while pressing their faces to the fence, they would assume a pop concert was underway.
Interestingly, seeing the event being organized at the White House, others would believe it was a ruse to rejuvenate the flagging approval ratings of both Joe Biden and Kamala Harris. But incidentally, the fans were for the boy band who weren't performing- but speaking from their heart about a topic that could have far-reaching consequences in the country. 
BTS Arrive At The White House To Rousing Reception
A young fan of BTS, Monroy Hernandez, stated that she was thankful to the band for making her believe in self-love. She was also quite elated that they came all the way to Washington- because she loved the fact that they were spreading awareness about the hate towards Asians that was taking place in the country.
While Hernandez was speaking, someone from the crowd chanted "Stop Asian Hate!" and everyone naturally joined in. The mania for the South Korean pop band was also quite evident in the press briefing room of the White House, where quite a few journalists from Japan and South Korea were standing in their aisles. It is quite interesting to note that the room had never been this full since Donald Trump had become President. 
The seven members of BTS- who went by the names of Suga, J-Hope, V, Jin, Jungkook, Jimin, and RM- stood behind Karine Jean-Pierre, the press secretary for the White House. The Press Secretary was quite surprised to see the turnout of the media for this event. The members of the boy band were themselves dressed in dark suits, white shirts, and black ties. When given their chances, all of them gave short statements- which they were assisted by an interpreter. 
Ever since BTS rose to fame in 2013, the boy band has been known for their music as well as their social campaigns which are usually directed toward empowering the youth.