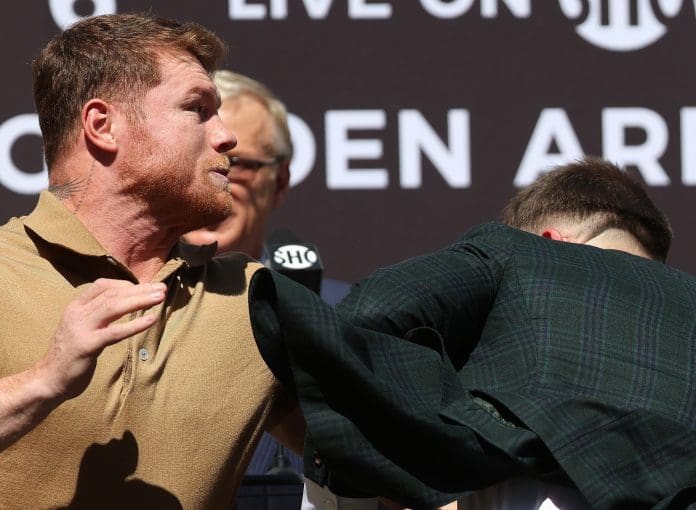 Caleb Plant went to Twitter to talk to his fans on Sunday after losing against Canelo Alvarez in Las Vegas.
He stated that he will be back as he had bent the world to his will with his skills and passion. He tweeted that he belonged at the topmost level and will be the champion of the world again. He has never been scared to go big and thanked his supporters and fans at the end of his message.
Caleb Plant And Canelo Had A Brief Conversation During The Game
Canelo and Caleb Plant engaged in a brief conversation during round 9 of the impressive fight. It took time for Canelo to break his opponent down but he secured the win by being relentless.
Canelo made the breakthrough in Round 11 when he smashed Caleb Plant with a left hook that put him on wobbly legs. He then floored him with a following right uppercut.
Plant managed to get back to his feet but fought on for a few seconds before being put down again.
With the victory, Canelo was crowned undisputed WBA, WBC, IBF, and WBO super-middleweight champion of the world. Alvarez retained the World Boxing Association, World Boxing Council, and World Boxing Organization super middleweight championships. He took Plant's International Boxing Federation belt with the victory.
Plant can be heard telling Canelo: "I'm pretty good? Am I pretty good?"
To which the Mexican replied: "Yeah."
Plant added: "Pretty good for 21-0."
Canelo then picked up the pace and attacked Plant with a combination to which the American seems to have reacted: "Not bad."