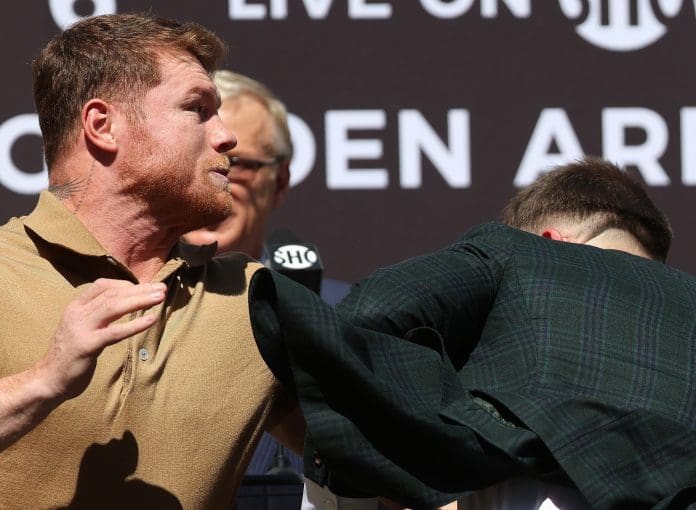 Caleb Plant has suffered a cut below his right eye after scuffling with Saul "Canelo" Alvarez in an interview. 
The cut appeared to be a minor one and will not have an impact on the fight set on the 6th of November. The fight is for the undisputed super-middleweight title and will be hosted by the MGM Grand Garden in Las Vegas.
Caleb Plant Chose To Get Into A Foolish Scuffle
The incident was quite foolish and short-sighted for Canelo to shove Caleb Plant, who retaliated with a punch. Stephen Espinoza had to stare with confusion as these two rumbled after a long staredown. This followed a news conference in Los Angeles.
Showtime just earned the right to promote the PPV event, and Espinoza had to be asking himself if he were cursed when Plant was yanked from the scrum with blood covering the side of his face.
Some believe that this scuffle helped to boost the pay-per-view sales but it was a poor decision by the 2 fighters. They should be knowing better in situations like this.
Alvarez misunderstood Plant and thought that he was insulting his mother. He threatened Caleb Plant and told him to not talk about his mother. Plant was on the dais and others stood up to prevent another incident. 
Alvarez was later interviewed and shared his feelings. He pushed him as he was talking about his mother and he had to defend himself from a left hook too. Alvarez should have known better as, if Plant had fallen from the stage or injured himself, the fight would have been called off. Caleb Plant could also have fallen back and suffered a concussion, which would have wreaked havoc.
With everything being said, Plant should not have thrown the hook. This was the reason for the escalation of the fight and caused more damage.
The promoter should have been between them or had someone do the job, to prevent this. It was foreseeable and it made no sense to not be there.