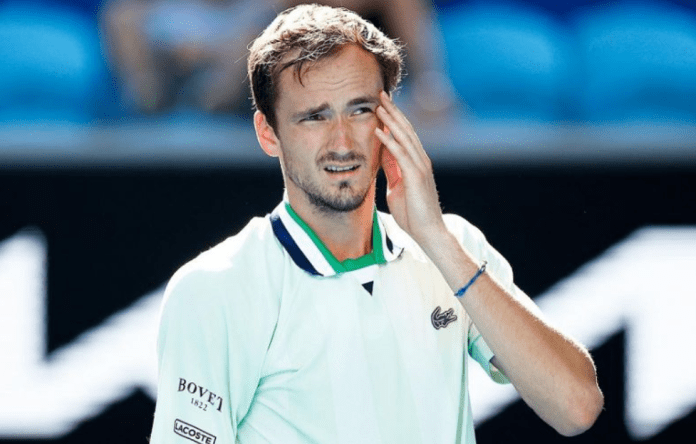 Daniil Medvedev, the favorite at the Australian Open after the abrupt exit of Djokovic for reasons not related to the game, has spoken out against the short bathroom breaks allowed at the tournament. The Russian vented his frustration at Frenchman Renaud Lichtenstein, the chair umpire, over the modified rules that allow players just 3 minutes out of court, plus an extra 2 minutes for changing their clothes.
It was a tough win over the American Maxime Cressy, 6-2, 7-6(4), 6-7(4) 7-5, at the Margaret Court on a sultry day. Later, speaking to the press, Daniil Medvedev, seeded second, maintained that there was a need for more time than the measly 3 minutes allowed. He said it was especially tough in the extreme heat.
Daniil Medvedev Says It Was Unfair For Players To Fresh Up In 3 Minutes
He said that with temperatures soaring to 35C (95F), players would need to change their shorts, shoes, and socks. He said it takes 4 minutes for a change and players might need to relieve themselves within that time.
Daniil Medvedev said that he couldn't see the logic behind the curtailed break, and he was forced to term it stupid.
Daniil Medvedev lost the 3rd set against Cressy, a serve-volley specialist. He was snappy as he could not close out the American in straight sets. He said that he was also peeved at being put in the shorter Margaret Court for the 2nd game at a stretch instead of the center court, the Rod Laver Arena, despite his top rank after the exit of Djokovic.
Daniil Medvedev admitted that he was angry at several things. The US Open Championship winner is the highest ranked at the Australian Open after Novak Djokovic, the Number One seed, fell afoul of authorities over his vaccine status and was deported after much drama.
About him not being placed on the center court, the Russian said that it was tough to face a serve and volley specialist on a smaller court.
Medvedev runs into Felix Auger-Aliassime in the quarterfinals. He was runner-up to the Serb last year.