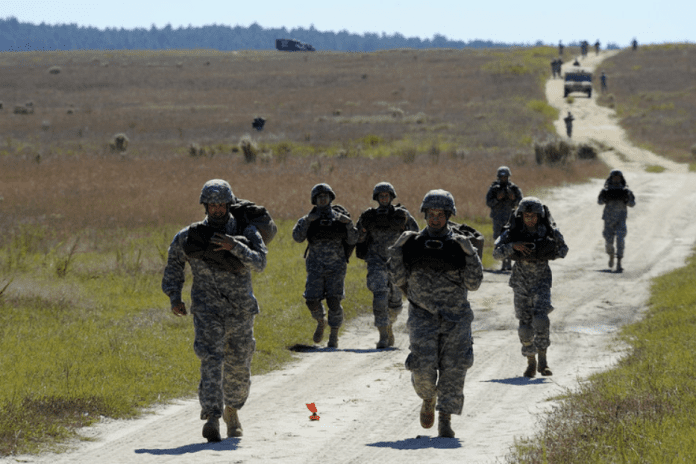 The Pentagon is getting ready to deploy its troops on the ground in Europe as a high alert has been sounded following escalating tension between Russia and Ukraine. Troops from Fort Bragg, home of the Special Operations Forces and the Airborne, are going to Europe.
Sources of the 18th and 82nd Airborne, both deployed at Fort Bragg, have not confirmed the news and said that the news had to come in from the Pentagon. But news has come in that 8,500 American troops are in a state of heightened alert. They are ready for deployment to the eastern front in Europe where Russian troops have massed on the border with Ukraine.
The order for preparation for deployment has come from Lloyd Austin the Defense Secretary, under directions from President Biden. The Secretary of Defense said no closing decision has been made on the deployment of troops.
Fort Bragg One Of The Most Populated Military Installations
CNN had earlier reported that the US was in an advanced stage of identifying the units that would be deployed from Fort Bragg.
The 251 square miles Fort Bragg is the home of the XVIII Airborne Corps and oversees the US Army 1st Special Forces Command (Airborne), the 75the Ranger Regiment, and the US Army Parachute Team. It houses 57,000 military and 11,000 civilian personnel, making it the largest US installation among the 5 large military bases.
President Biden discussed with senior military officers plans to boost American troop deployment in Eastern Europe during a Camp David briefing this Saturday.
News of troops movement from Fort Bragg comes even as the US warned that an invasion by Russia seems imminent. Staff at the American embassy in Ukraine have been moved out with only a functional unit deployed there.
The US president will speak to European leaders as part of the coordination and consultation by Washington with its allies on the other side of the Atlantic in light of the Russian deployment on the Ukraine border.
America has already dispatched 2 shipments of weapons to Ukraine in last week as part of the planned security support to strengthen Ukraine's defense.
Additional NATO fighter jets and battleships are also moving to Eastern Europe and forces are on standby for deployment. Jens Stoltenberg, the Secretary-General of NATO, said that the organization would go ahead with the measures necessary to defend and protect its allies and would go ahead by strengthening the eastern wing of the alliance.