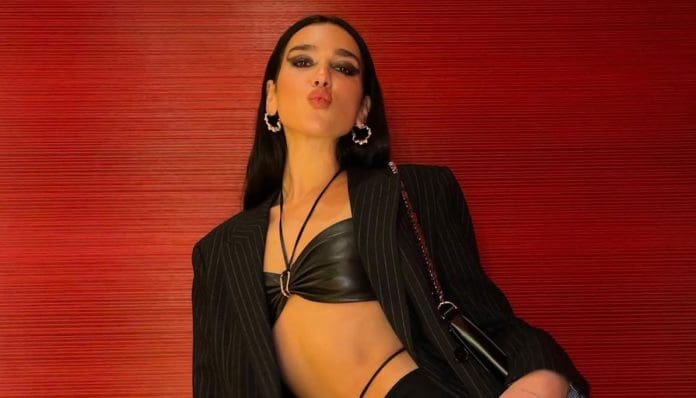 Dua Lipa, who is 26, just showed off her 6-pack abs in a vampire-themed Instagram post.
It might be only September, but Dua Lipa is gearing up for the coming Halloween. She embraced the scary side in a new themed post where her abs look sculpted. It's spooky on a different level.
Dua Lipa Shows Off Her Spooky Side
The pictures show Dua Lipa in different angles wearing a black bikini top and pants which are set with a matching blazer. The thing that stole the show was her toned core. She captioned the image, "4 the thrill" followed by a blood emoji.
Fans were absolutely crazy after seeing the post and so did other celebrities. Megan Thee Stallion fell over herself and commented on the "jaw-dopping" picture.
Dua revealed the secrets behind her sculpted abs. She usually works out in the morning at 8:30. She does so on Zoom or with her friend Ella. Ella leads a workout class, known as Sculpt With Ella". Dua Lipa is also motivated by her friend Bunny, who helps her out on the days she feels lazy.
Dua Lipa prefers a variety of crunches to tone her core, which includes, leg raises and bicycle crunches. She does not prefer Planks even though they are good.
Dua Lipa can be busy doing her thing but still keeps time out for working out. She stated that working out for a few minutes is better than doing nothing at all.
Dua prefers a balance in her life and tries to stay healthy whenever she can. She is all up for small treats but limits them on days when she's not busy as it puts her in a "food coma".