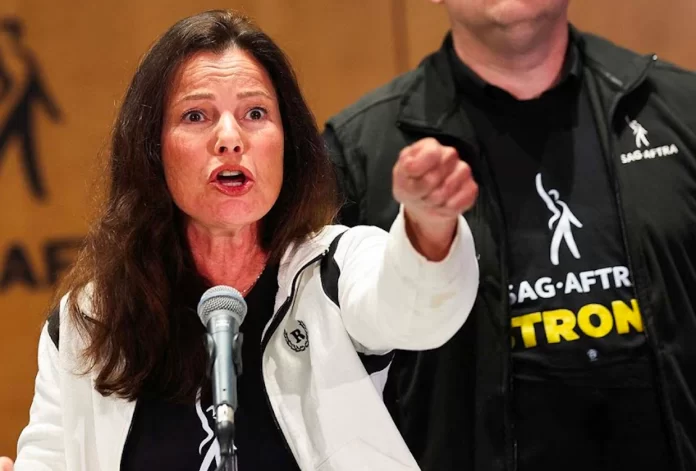 The actors' president Fran Drescher and the guild's National Executive Director and chief negotiator Duncan Crabtree-Ireland criticized "employers" at the SAG-AFTRA Strike press conference this AM for stoking the negative press against The Nanny actress amid the poor optics of attending a Dolce & Gabbana show in Puglia, Italy, with Kim Kardashian as contract negotiations between SAG-AFTRA and AMPTP approached their final hours. When asked about the incident previously this week Drescher said, "That wasn't a selfie!" On her Instagram Stories page, Kardashian shared a picture of herself and Drescher.
Fran Drescher And Kim Kardashian Spotted Together
The Beautician and the Beast star's Italian fox trot was defended by National Executive Director and Chief Negotiator Duncan Crabtree-Ireland first.
"I want to stress that what they did was awful. Fran was working when we last saw her. What our members do is that. Additionally, these companies have been cynically attempting to turn our members against Fran since she was performing a task for which she had been hired, even though she had been attending our negotiations after-hours and working up to 18 hours per day. Crabtree-Ireland yelled, "It is outrageous, it is wrong, it's despicable, and they should be embarrassed by it. Fran Drescher said. "Thank you for that. Both Kim and I represent a fashion brand as brand ambassadors.
"I hadn't even met Kim yet when that press photo was shot. The SAG-AFTRA President stated, "It had nothing to do with being at a party or having a good time. "It was hard labor. Fran Drescher added, "I was in hair and make-up for three hours a day, pacing in heels on cobblestones, and doing things like that which are labor – not enjoyable.
Drescher remarked, "I'm sure Kim would have preferred to be at her house in Malibu with her children, too. But that's what we do—we labor."