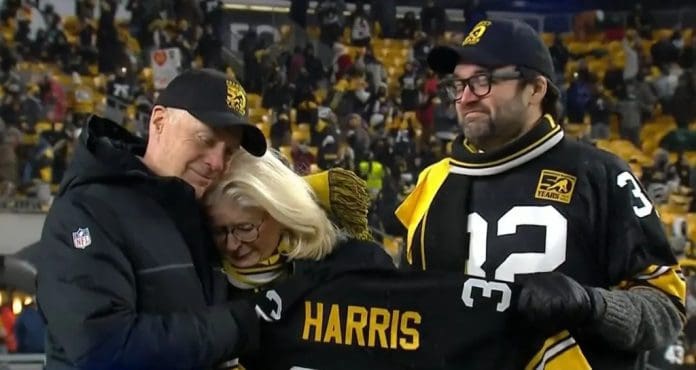 When Kenny Pickett managed to throw a 14-yard TD pass to George Pickens with just about 46 seconds remaining, the Pittsburgh Steeler managed to cap around three days of tributes to Franco Harris. They also managed to beat the Las Vegas Raiders with a score of 13-10.
This was the same night that the team decided to retire the late Hall of Famer's jersey No. 32. The running back for the team had died on Wednesday at the age of 72, while Pittsburgh did manage to keep their playoff hopes alive by delivering a last-second blow to the Raiders. Las Vegas, on the other hand, could be on the brink of elimination.
Pittsburgh Steelers Pay Tributes To Franco Harris With Last-Moment Victory over Raiders
The day of the Steelers' victory also coincided with the Immaculate Reception win of Franco Harris in the 1972 playoffs- which came against the Las Vegas Raiders as well. Similarly, the current QB of the team, Pickett managed to drive the team 76 yards in 10 separate plays, after which he threw a last dart over the middle to a wide-open Pickens who was waiting in the end zone.
Pickett managed to complete around 26 of 39 for 244 yards with an interception and a touchdown. Pat Freiermuth, the tight end, also managed to catch seven passes for 66 yards, and Najee Harris had around 95 total yards as the team from Pittsburgh managed to win for the fifth time in the last seven games.
The team from Pittsburgh also paid their tributes to Franco Harris in quite a number of ways during this bitterly cold night. Players put on their replicas of his jersey while entering the stadium. Cam Heyward, the Defensive Captain, ran straight onto the field where he waved a massive flag that had Harris' number on it, and Pickett kept shouting "Franco!" during his cadence.