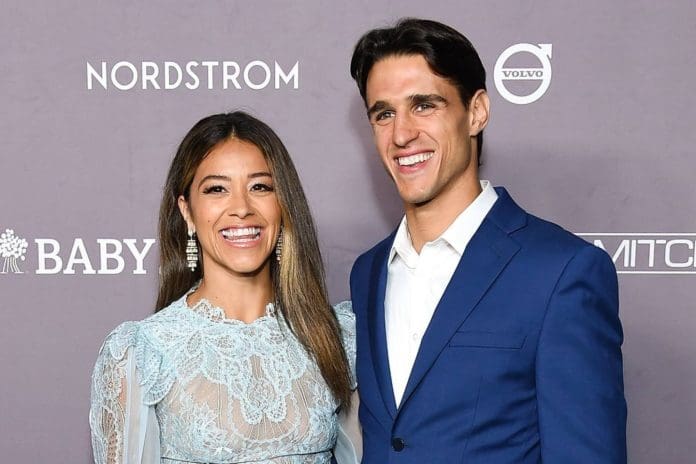 Gina Rodriguez is expecting a child! The Jane the Virgin star, 38, announced that she and her husband Joe LoCicero are expecting their first child on Saturday, the day of her 38th birthday, which was also accompanied by some major news. 
She and LoCicero, 35, engaged in some PDA in a compilation of vintage images and videos, which also featured a scene in which they flaunted the results of the pregnancy test.
In the comments section, others congratulated the soon-to-be parents. Rodriguez's "Someone Great" co-star Brittany Snow expressed her joy for the trio in a blog post. Her on-screen father in Jane the Virgin, Jaime Camil, stated that he is bursting with love for the two of them. A number of other celebrities, including Jordin Sparks, Viola Davis, Derek Hough, Danielle Brooks, and Arielle Kebbel, congratulated the expectant mother.
Rodriguez previously addressed her intense desire for a child on The Ellen DeGeneres Show in 2016.
Gina Rodriguez Admitted To Ellen That She Desperately Wanted A Child
Gina Rodriguez chuckled as she said, "I just want one to come," much like the stork dialogue. I don't want the entire operation." She had no objections to the notion of adoption.
Regarding her work on Jane the Virgin with her twin baby co-stars, she stated that she imagined her ovaries would pop if she saw the infant "Ahh! Baby, come on over!"
After meeting on the set of Jane the Virgin, where he appeared as a stripper in a cameo role, the Golden Globe winner started dating LoCicero, an actor and MMA fighter, in 2016. After starting speculations with her diamond ring in 2018, she later announced their engagement exclusively to PEOPLE.
Three years after they made their red carpet debut as a pair, Gina Rodriguez and Joe, both 35, got married in 2019. On the day Gina Rodriguez announced her pregnancy, Joe sent a birthday tribute to his wife on Instagram, despite not sharing any information about Gina's pregnancy on his own account.