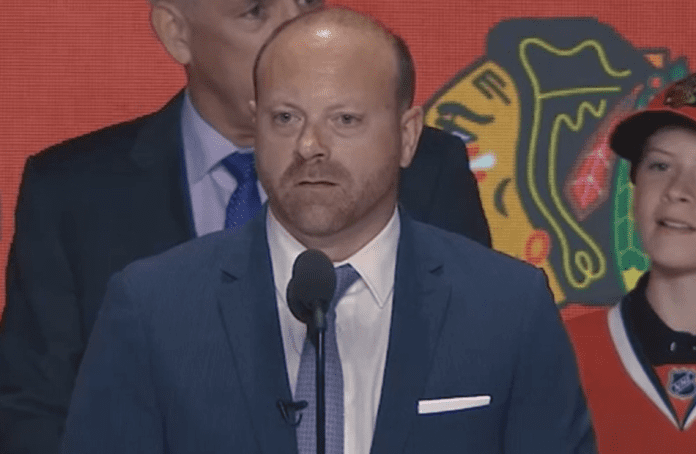 The NFL in its investigation concluded that the Blackhawks mismanaged allegations of sexual assault leveled against a former assistant coach. GM Stan Bowman resigned, and the team was fined $2M. The incident took place during the 2010 Stanley Cup. Stan Bowman had taken over as the president of hockey operations in 2020 over his duties as the General Manager. 
The details were released by an investigation panel that the franchise commissioned. The incident overshadowed other issues within the NHL.
The Chicago Blackhawks have said that the resignation of Stan Bowman was 'needed', but said that current team values remained first class. 
Stan Bowman took over as GM of the Blackhawks a year before the assault in 2009. He built an impressive 3 Stanley Cup-winning roster.
Stan Bowman Forced To Resign After External Investigation
Stan Bowman was the president of operations and the general manager. He was forced to resign following the findings that were conducted by an external law firm. 
The NHL penalized the Blackhawks for its inadequate internal procedure and untimely and insufficient response. A top executive of the team, AL MacIsaac is also out of the team.
The incriminating report also names the GM of Winnipeg Jets Kevin Cheveldayoff and the coach Joel Quenneville of the Florida Panthers. They were part of the Blackhawks team during the incident. The Panthers did not comment, citing ongoing investigations, while the Jets have remained silent so far.
Two lawsuits were filed against the franchise and the Blackhawks had hired law firm Jenner & Block for an independent appraisal. One of them was filed by a former player identified only as John Doe against Brad Aldrich, former assistant coach, and the other by an ex-student for assault in Michigan.
Reid Schar, the ex-federal prosecutor leading the investigation, said that there was no indication that Danny Wirtz, the CEO, or Rocky Wirtz, his father, was conscious of the incident before the lawsuits were filed.
Danny Wirtz had called the reports released by the franchise both disturbing and difficult. He said that John Doe had deserved better treatment from the Chicago Blackhawks and the team had given team performance precedence over other issues.
John Doe, through Susan Loggans, his attorney, has expressed his gratefulness to the Blackhawks for being accountable.
He said that while the action of one person had changed the course of his life, he was thankful that the truth had been finally revealed, and he can move on with his life.