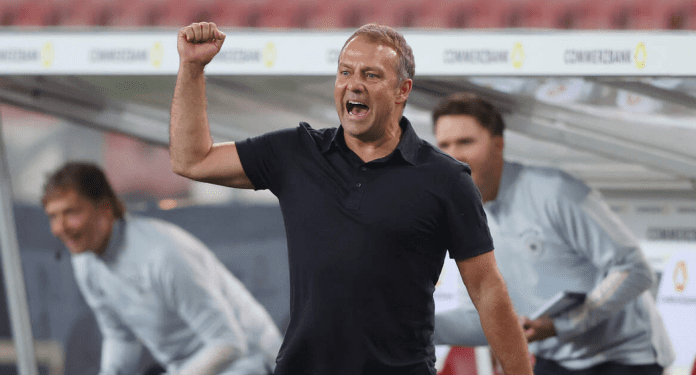 Hansi Flick is quite enthusiastic when he talks about the leading strikers in the world. He benefitted a lot from Lewandowski, back in his Bayern Munich days.
Hansi Flick has now switched to the German national team and faces an issue that Germans have suffered for many years. None of the top strikers in the world is of German origins, like Erling Haaland, Ciro Immobile, or Harry Kane.
Hansi Flick Looking For Other Avenues To Make His Mark
Flock has to count on others in order to get Germany back to the stage, back in 2014.
High intensity of football, broad range of wingers is his answer before the team faces Iceland, in the 2022 World Cup qualifier on Wednesday.
After Klose retired in 2014, the German national team has found no such replacement. 
Flick has to deal with the failures of the past, just like Loew, and is intending to perform well in Qatar and also at the 2024 Euros.
Various coaches including Klopp and Arsene Wenger have spoken about the dark notches in the german talent education. Wenger believes that Germany must have done something wrong as they had a world-class striker in every league but now is being dominated by the likes of Lewandowski and Haaland. 
The fans can be assured that the change is on the way and being implemented by Hansi Flick and Oliver Bierhoff. Bierhoff is the national team director. The only issue here is that things are taking more time than expected.
They have added measures in their educational systems that develop box-strikers. They had developed technically gifted players but they were left out at the spearhead position. 
For the time being, established forces such as Marco Reus, Thomas Mueller, Serge Gnabry, Leroy Sane, Timo Werner, and Kai Havertz, and Ilkay Guendogan have to work with scoring aside of young talents nominated by Flick.
Young players like Florian Wirtz, Jamal Musiala, Karim Adeyemi, and Lukas Nmecha are seemingly far from being goal-scoring machines comfortable when continuously acting in the box.