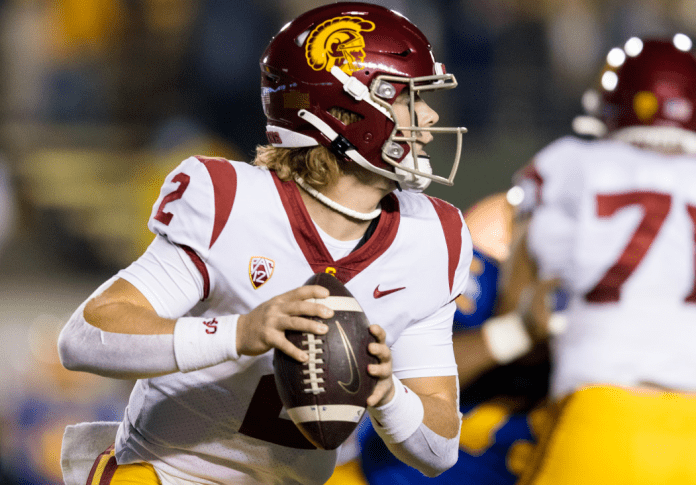 The USC quarterback transfer Jaxson Dart is joining Ole Miss. The news was confirmed by Pete Thamel reporting for ESPN. He reported that Jaxson Dart made his commitment to the University of Mississippi.
Jaxson Dart chose the University of Mississippi over BYU and Oklahoma. Those two were the other schools visited by him ever since he joined the portal for college transfers on January 10.
It was the attraction of getting a chance to develop under Lane Kiffin, the coach of Ole Miss that played a big part in the final decision that Jaxson Dart made. He returned impressed from his visit to the University of Mississippi with the plans that the staff had made fr his joining. 
It included the vision that Charlie Weis Jr., the fresh offensive coordination had set out for him along with John David Baker, the passing game coordinator.
Jaxson Dart And Trigg Based Their Decision Mostly On The Prospect Of Playing Under Lake Kiffin
Jaxson Dart posted the news of his joining Ole Miss on Sunday on social media. Jaxson Dart was impressed on his visit to the University of Mississippi with the sports community in Mississippi. He realized the importance of the program in that area. Finally, the one important thing that made him decide on Ole Miss was the chance it afforded him to nurture under Lane Kiffin.
 Along with Jaxson Dart, Michael Trigg, the former tight end at USC has also decided to transfer and turn into a Rebel. Trigg revealed that he was always in favor of Ole Miss. He said that he was part of the portal as of the relationship he had with the coach and Baker.
Trigg said that he was part of the portal along with Jaxson Hart as he felt like he was throwing the ball to him. He said that they would combine well anywhere. He said both he, along with his family, were comfortable sending him to someplace where he had a future ahead of him.
Jaxson is ranked at 19 on the ESPN 300 last year. Only two other players ranked higher in the QB position, Caleb Williams of Oklahoma, and Sam Huard of Washington.