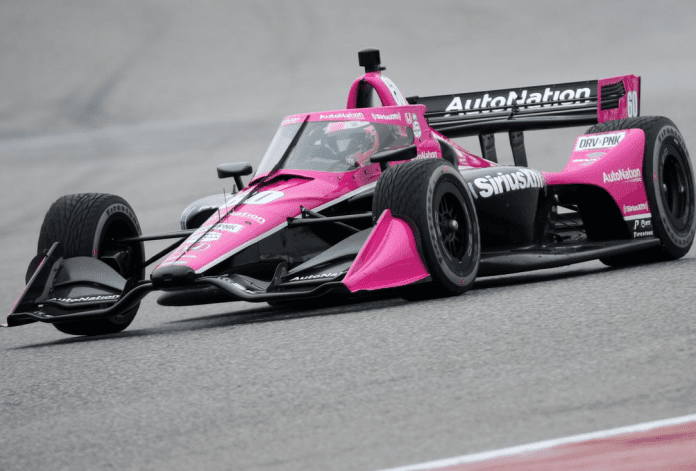 In a repeat of the win at the Indy 500, Brazilian Helio Castroneves lifted Meyer Shank Racing again with a win placing the team on the winners' board on Sunday. It was a hard-fought victory in freezing Florida temperatures at Daytona in the 2022 Rolex 24.
Castroneves took owners Jim Meyer and Mike Shank to the victory circle for the 1st time in May 2021 at the Indianapolis Motor Speedway. It was his record-equaling 4th Indy 500 win. He staved off a challenge from Ricky Taylor, former teammate, to come out tops in the 60th edition of Rolex 24 held at the International Speedway in Daytona.
Castroneves has thus won his 2nd consecutive Rolex 24. He has returned to regular competition with Meyer Shank Racing at the NTT IndyCar Series. He was the winner at Daytona last year with WTR.
Castroneves Changed Team From WTR To Meyer Shank Racing This Season
He denied WTR a record 4th consecutive victory at Rolex 24 this time after changing the team to Meyer Shank Racing.
Castroneves did his signature climb onto the fence after the victory and was joined by his teammates on the fence.
The Brazilian took over from teammate Tom Blomqvist and said that he was feeling like twenty-two. He said it was amazing the way the Meyer Shank Racing team kept pushing him. He complimented the performance of the car.
Castroneves said that he was pleased for the whole Meyer Shank Racing team, and he has realized his dream.
He said that it is passion that matters. He said that it helps you to stay focused and eliminate distractions. He said that his victory with Meyer Shank Racing makes an item on his bucket list.
Castroneves teamed up with Oliver Jarvis, Blomqvist, and Simon Pagenaud, who was his teammates this year at IndyCar and also a 1st-time winner at Rolex 24. Castroneves complimented his teammates and spoke about the unbelievable race.
After finishing runners-up twice in Daytona, Pagenaud won his first-ever Rolex with his 9th start. It was a 1-2 for the Acuras as Taylor came in 2nd in WTR No. 10. Pipo Derani and Loic Duval were 3rd and 4th in No. 31 and No. 5 Cadillacs.