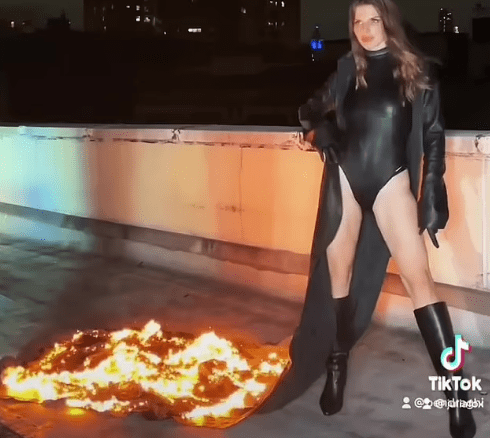 In a video released on Insta, model Julia Fox wears a coat, black in color, with a long, flowing train that rapidly disintegrates into smoke.
The 32-year-old model captioned the video, "My kid was conceived on this roof top," and revealed that her flaming, appropriately named "pyro coat" was the brainchild of designer Sam Macer, with her look curated by Briana Andalore.
Shot Of Julia Fox In The Coat
Ben Draghi, an artist, shot the clip, which lasts around 25 seconds and features the song "Char" by Castles. The video begins with a wide shot of the garment's scorching train before zooming up on Julia Fox, who is clad just in a structured dark leotard and high stiletto heels.
Then, only a few seconds later, her sleeves caught fire as well.
The designer gave Page Six Style a unique glimpse at the pyrotechnics behind the look.
The coat is leather, Macer said, and the sleeves were padded with the kind of stretched steel wool often employed by mechanics.
Burning the pieces causes the steel wool to dissolve, revealing the hidden underwear. The fact that it burns at a very low temperature, however, allows it to be used in close proximity to the human body, as he went on to explain.
The 21-year-old graduate of Central Saint Martins further elucidated that more sparks may shoot from the actual coat itself. "The parts might be burned several times because of sleeve coverings and linings," he said.
Still, "re-wrapping of the steel wool between each burning" would be necessary for everything.
Spanish singer Rosala was also photographed with the same blazing coat back in March, when she posted a photo of herself on Instagram.
Julia Fox, a woman of many talents, has recently emerged as a fashion star thanks to her efforts to bring attention to emerging designers and artists throughout the world after her romance with Kanye West in early 2022.