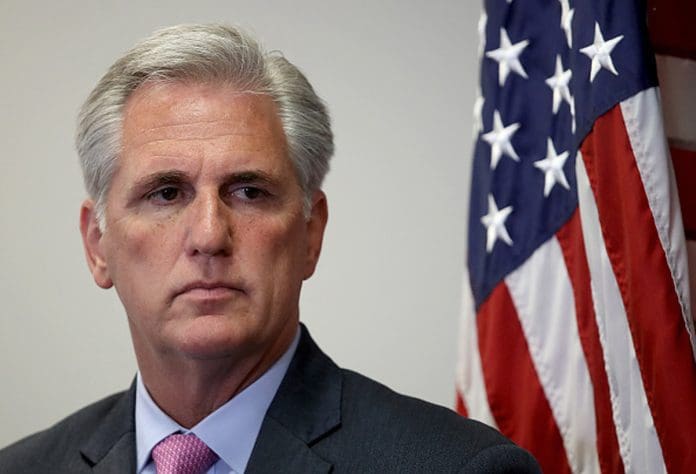 Al-Nakba or the Palestinian displacement event sponsored by Democratic Representative Rashida Tlaib was canceled by House Speaker Kevin McCarthy on Wednesday. The Al-Nakba is an event that the Arabians observe during the period of the creation of Israel. Approximately 700,000 Palestinians were displaced during the Arab-Israeli War in 1984 as Israel was created. McCarthy however opposed the event according to CNN, stating that for the members of Congress, it is inappropriate to move against Israel with antisemitic motives.
Rashida Tlaib, the first Congresswoman of Palestinian-American origin, was expecting to host the Al-Nakba Event on Wednesday at the Capitol Visitor Center. However, according to the House Speaker's spokesperson, by late Tuesday, McCarthy had stepped in and canceled the event.
Rashida Tlaib Calls Out Kevin McCarthy
Congresswoman Rashida Tlaib has denounced Kevin McCarthy's cancellation of the Al-Nakba event, accusing the House Speaker of attempting to erase the truth and existence of the struggle of the Palestinians and rewrite history. She further stated that the cancellation of the Al-Nakba event will not silence the voices of the many Palestinian Americans who have survived the hardship and trauma of the Nakba. Congresswoman Tlaib further stated that she plans to move forward with the event and make sure that the stories of the Palestinians are heard and not silenced.
The term Nakba means catastrophe, the invitation to the Al-Nakba event read that May 15 commemorates the 75th anniversary of when the Zionist army had displaced hundreds of thousands of Palestinians from their homes in the creation of the state of Israel. Meanwhile, House Speaker Kevin McCarthy, according to his spokesperson, will chair a bipartisan briefing commemorating 75 years of Israel-US bilateral relations.