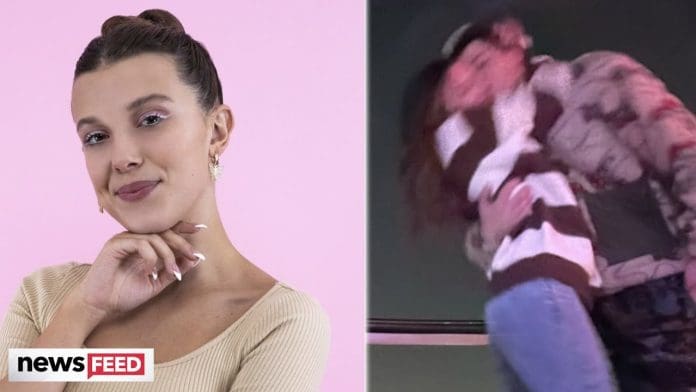 Jake Bongiovi and Millie Bobby Brown look like a couple in love in the new pictures that have been uploaded of their engagement. The star of Stranger Things, and her 21-year-old fiance, who is the son of Jon Bon Jovi, were seen cozying up to each other in a bunch of pictures that were posted by Buster Knight, the makeup artist, on Instagram. Brown had been decked up in a lacy white two-piece ensemble, and she wore her long hair parted in the middle. Her look was completed with Soft Natural Glowy makeup that was Knight's doing. Her fiance wore a tasteful green suit and a white dress shirt.
Millie Bobby Brown and Jake Bongiovi Celebrate Their Engagement
Millie Bobby Brown's hairstylist for the event, Pete Burkill, also posted a few pictures of the couple. In one of the pictures, the pair could be seen looking at each other. In another picture, they were standing before white balloons, and a sign that announced, "Mr. and Mrs. Bongiovi." Bongiovi and Brown had already spoken about their announcement on the 11th of April. Brown had then posted a black and white picture of the couple on Instagram that showed her smiling while her fiance stood behind her with his arms around her. On her left hand, one could see a diamond engagement ring.
Millie Bobby Brown's fiance also shared his pictures to celebrate the milestone achieved by this couple. In a series of pictures of him and Brown, he had captioned "Forever". The couple went official on Instagram in November 2021, when Brown uploaded a blurry picture of the pair as they embraced before the London Eye. Later, Bongiovi also uploaded an Instagram picture of him and Brown on the same day that also showed them sitting at a table outside, drinking tea.