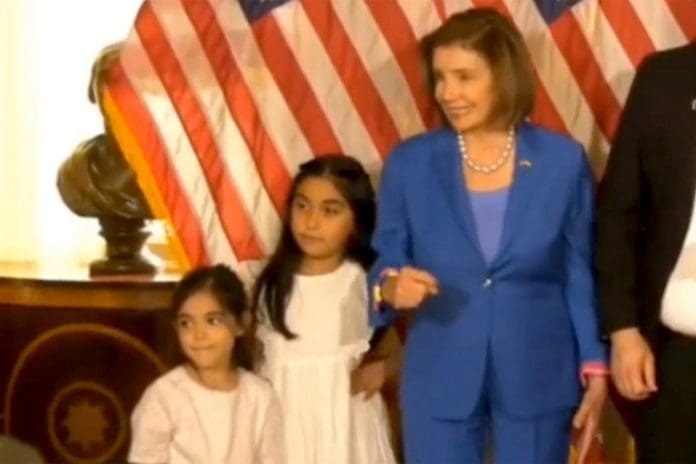 Nancy Pelosi has been accused by Mayra Flores, a Republican Representative from Texas, of pushing away her daughter during a photo shoot. The viral instance captured on camera has sparked an accusation against the Speaker of elbowing out the child during last week's swearing-in of the Texan Congresswoman.
The video initially shows Nancy Pelosi gesturing to someone on the other side of the camera. She then glances at the child and seems to push her and the girl moves to one side.
Flores slammed Nancy Pelosi tweeting that no child ought to be pushed aside for a photo shoot. She said she was proud of her strong and beautiful daughter who kept smiling and retained her composure like a queen.
Pelosi's Chief of Staff defended her and said that the House Speaker was merely trying to make sure that Flores' child would be included in the picture.
Nancy Pelosi's Staff Defended Her And Released Another Video Of Her Speaking With The Children
Drew Hamill tweeted that it was wrong to misrepresent the move by Nancy Pelosi as she was only trying to ensure that the child wouldn't be hidden in the photos during such a significant moment for the family.
Hamill shared another video where Pelosi can be seen chatting with the two children. In a separate tweet, Hamill said that the separate footage of Nancy Pelosi graciously greeting the two daughters of Rep. Flores and talking to the two about the place they were in.
In a second video, the Republican Representative and Nancy Pelosi are seen shaking hands and smiling as the latter congratulated Flores for her historic achievement.
In a video, Pelosi said that it was an honor to welcome the Congresswoman to the Capitol and the US Congress and congratulated her. She also said she was grateful for the leadership and referred to her 'beautiful' family present on the occasion.