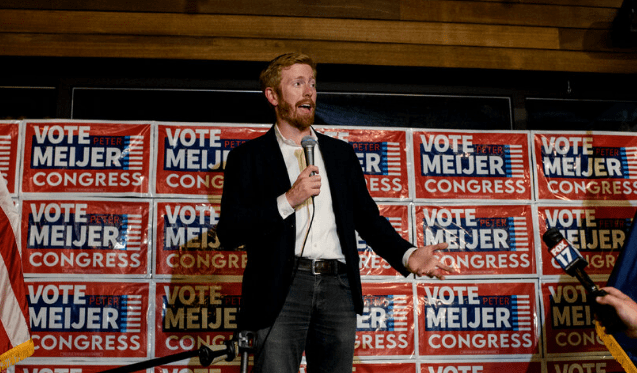 Rep. Peter Meijer of Michigan, one of 10 House Republicans who voted to impeach former President Donald Trump last year. Peter Meijer has lost to a fervent election denier running with Trump's support, CNN projected early Wednesday.
Republicans in Michigan and Arizona — two states at the center of Trump's 2020 election denial campaign — voted on Tuesday in primaries for crucial federal and state contests as the shape of the 2022 midterms comes into focus less than a hundred days from Election Day.
Trump's picks will win the GOP gubernatorial nod in Michigan as well as the GOP nominations for US Senate, secretary of state, and attorney general in Arizona, CNN projects. In Arizona, one significant loss was that of state House Speaker Rusty Bowers, who delivered emotional testimony before the House January 6 committee about his resolve in the face of enormous pressure to overturn the 2020 results. He'll lose a GOP state Senate primary, CNN projected early Wednesday.
Trump's loss in those battleground states two years ago seeded right-wing anger and turned Republican primary campaigns up and down the ballot into referendums on his election lies. Allies of the former President sought offices crucial to the balance of power in Washington and in state governments, where the GOP is hoping to gain control of the election apparatus ahead of the 2024 presidential contest.
Peter Meijer Is The Second To Lose Elections
With Peter Meijer's loss to former Trump administration official John Gibbs, Peter Meijer becomes the second of the so-called "impeachment 10" to lose reelection after South Carolina Rep. Tom Rice lost to a Trump-backed challenger in June.
Two others — Washington Reps. Jaime Herrera Beutler and Dan Newhouse — were also facing challengers from their own party on Tuesday, but CNN has not yet projected whether they'll be advancing to the general election. (Under Washington's primary system, the top two finishers regardless of party advance to November.)
Rep. Liz Cheney of Wyoming, perhaps the most high-profile of the House Republicans to have voted for impeachment because of her role as vice chair of the House select committee investigating January 6, 2021, faces a Trump-backed opponent later this month.
One of the impeachment 10 — California Rep. David Valadao — survived earlier this year, advancing to the November election in the Golden State's top two system, while four of the Republicans who voted for impeachment are not running for reelection.
Peter Meijer's primary in his western Michigan district had become a flashpoint in both parties' national infighting because Gibbs was the beneficiary of Democratic meddling. The party's House campaign arm, believing that Gibbs would be a less viable general election candidate, ran more than $300,000 in ads ostensibly attacking his alliance with Trump with the goal of boosting him in the primary. But that strategy angered some on the left who thought it undermined their broader messaging against political extremism in the GOP, while sparking fears the gamble could backfire if Gibbs makes it to Congress.
As CNN's KFILE first reported in 2018, Gibbs has a history of conspiratorial and inflammatory tweets and defended a notorious anti-Semitic troll banned by Twitter.