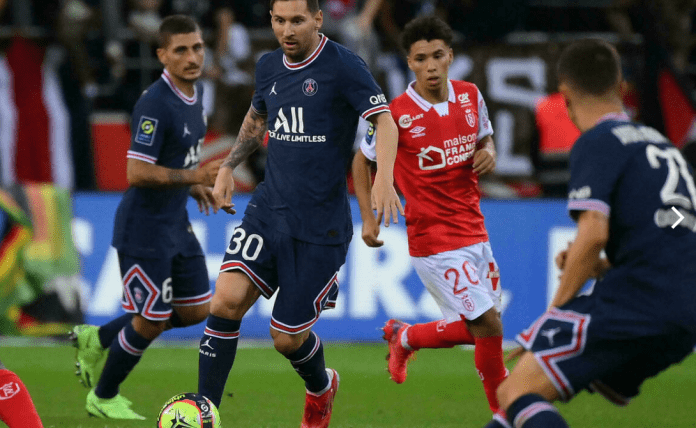 The wait is over as Lionel Messi makes his debut for PSG.
Reims had the best seats in Europe where Lionel Messi made his PSG debut. Messi had played for the club for the first time after leaving Barcelona for free. 
The Debutant For PSG Gets Fans Excited
Messi was signed on the 10th of August but was named in the team sheet for the first time against Reims. Mauricio Pochettino, the coach, named the Copa-winning Argentine in the game day starring alongside Neymar and Mbappe. Neymar and Mbappe were named in the starting eleven, while Messi was warming up on the bench.
Messi started warming up after the first half ended and the Reims fans joined the PSG supporters to call for Messi's introduction.
The club had already won the game by the time Messi replaced Neymar just before 60 minutes. 
Mbappe scored 2 beautiful goals for the Paris side. He is currently the subject of a €180 million transfer to Real Madrid. Mbappe dealt the most damage as PSG won four of their first games in the French League. Some of the fans were disappointed as Messi could not pull off a moment of magic as he did in Barcelona.
The Parisian team looks like a powerful team with Neymar, Mbappe, and Messi in the attacking trio. They are hoping for a second European Final in the Champions Lague with a team like this.
Reims have played in the European Cup twice and have lost to Madrid in 1956 and 1959. PSG has only reached the finals once and lost against Bayern Munich in 2020. With Messi in the PSG line-up, they are desperate for a win the next time.