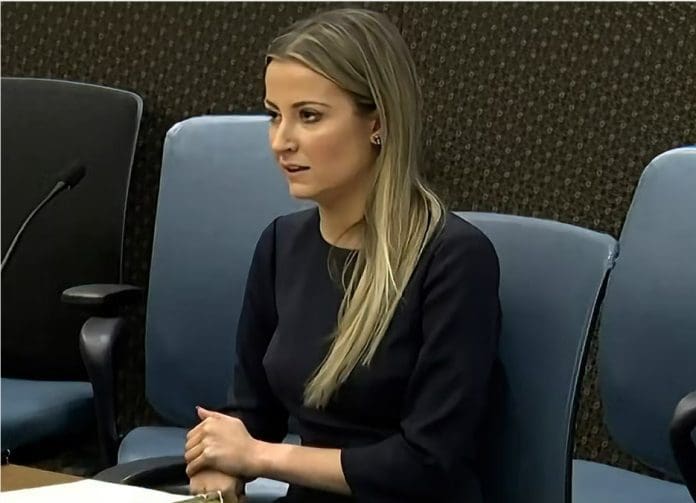 Sarah Matthews, a former member of the Trump White House staff who quit following the disturbance at the US Capitol on January 6, is scheduled to give a public statement before the select committee looking into the event.
According to CNN, Sarah Matthews, who worked as the administration's deputy press secretary, will allegedly be testifying under oath at a subsequent hearing after getting a subpoena.
In a videotaped deposition that was shown in part during a hearing last month, Sarah Matthews has previously provided testimony to the committee. 
Sarah Matthews Quit After Jan 6 Attack
In the video recording shown before the panel, she talked about how she and other staff members who were horrified by the scene playing out at the Capitol begged top aides to get the president to tweet something to defuse the tension. She also stepped out to support her former coworker Cassidy Hutchinson following the latter's shocking statement at a recent televised hearing. She has also been a vocal opponent of the actions taken by the Trump administration before the events of January 6.
Attempting to discredit Cassidy Hutchinson because of how damning her testimony is, she tweeted last week, "Anyone downplaying Cassidy Hutchinson's role or her access in the West Wing either does not understand how the Trump WH worked or is trying to discredit her for fear of how damning this testimony is." If anyone engaged wants to refute these claims under oath, the Jan. 6 committee would likely welcome their testimony.
She expressed her outrage at the disruption of a peaceful transition of power when she resigned, which she did very shortly after the rebellion.
The panel will provide evidence and testimony on how the crowd that stormed the Capitol was gathered during the committee's next public hearing on July 12; this hearing will explore the role of extreme groups like the Proud Boys and the Oath Keepers.