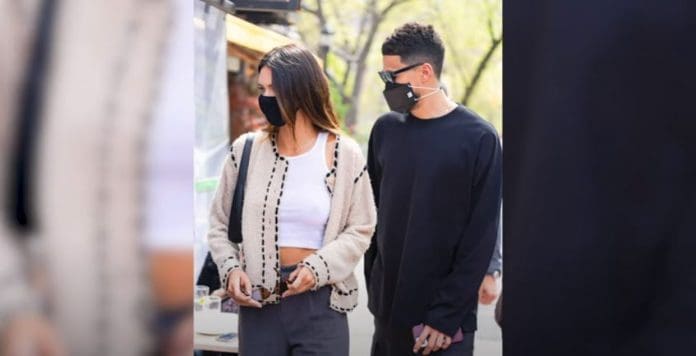 Recently Kendall Jenner shared the sweetest story with her fans. She expressed how her niece Stormi loves her boyfriend, Devin Booker. Kendall shared the news at The Tonight Show.
She was having a chat with the host about her sister, Kylie Jenner, 's pregnancy. She recently came across the news of Kylie and Travis's second time expecting a baby. She claimed herself a good babysitter for all the nephews and nieces she has. According to her, she is happy being the 'cool aunt' of the family.
Kendall, The Cool Aunt Is Dating Devin Booker
Kendall remarked that she loves looking after her sibling's children, which are quite a lot in number. She usually chills with them and spends a good time taking care of them. It's like therapy to her she said.
When she was asked if Devin Booker, her boyfriend, is close to the younger family members, she exclaimed how Stormi has a major crush on Devin Booker and shares a beautiful bond with him. Sometimes it makes her jealous, she said jokingly.
The youngest Jenner sister faced questions of being the only person in the family without a child in the past. In 2018 she cleared it to everyone that she is a happy aunt helping her sisters managing the younger members. On Ellen DeGeneres Show, she said she sometimes questions herself about having a baby, and the answer is always a no that comes from inside. But she has no regrets about it as she has many children around her to play and have fun with and return them when it's done.
Kylie's second pregnancy news was announced on Instagram by her and Travis Scott. Everyone congratulated the couple and sent heartwarming wishes. Kendal commented on that post about how she can't handle her excitement. The founder of THE SKIMS expressed joy on the news too.