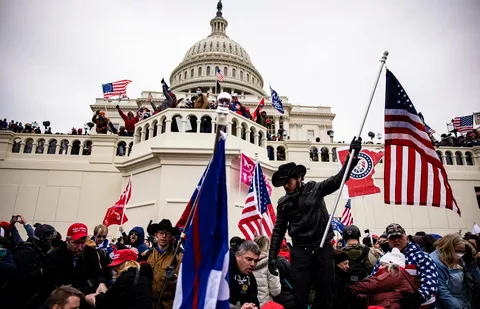 Last week a man named Taylor Taranto was arrested, in the neighborhood of former US President Barack Obama. Taranto was arrested for possessing weapons and was live-streaming on his social media account. He also had re-posted former US President Donald Trump's social media post. According to federal prosecutors, President Trump had stated and mentioned the Washington D.C address of Barack Obama. The prosecutors as the have filed a memo of detention for Taylor Taranto, has demanded his detention at the District Court of D.C. to a federal magistrate judge.
The federal prosecutor's demand for Taylor Taranto's detention is because of his previous charges which are pending in relation with his involvement in the Capitol Hill Riot, which happened on January 6 of 2021. The prosecutors in their court filing has also called Taylor Taranto a direct and serious threat to the citizens as well as the political leaders to whom he had admitted of causing physical harm in his statement in the filing.
Taylor Taranto Had Threatened House Speaker & Democratic Representative Raskin
Back in June, Taylor Taranto had threatened the Republican House Speaker Kevin McCarthy and Democratic House Representative Jamie Raskin. In his filing statement, Taranto stated that he particularly chose Jamie Raskin, as he hates the people who had caused the Capitol Hill Riots. Taranto even mentioned his motive behind his choice for the Piney Branch Elementary School, which is in Maryland, where the Democratic Representative resides with his wife in close vicinity. Taranto wanted to have him all by himself. The prosecutors have stated the severity of harm that Taranto can cause. His hearing for detention is likely scheduled for next Wednesday.