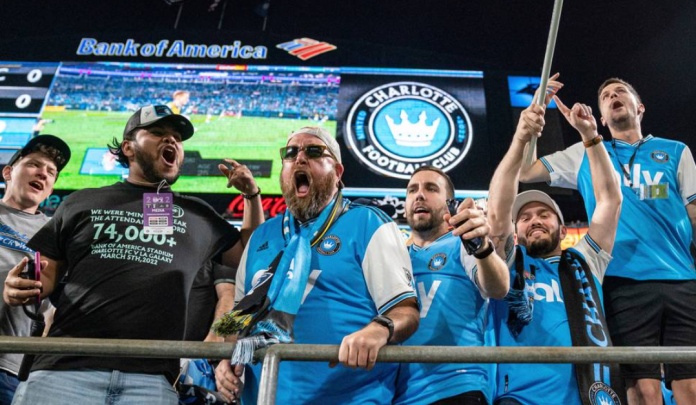 The newly born club of Charlotte FC was scheduled to play their first match against LA Galaxy in the Major League Soccer(MLS) and recorded an attendance of 74,479. This was declared as a record-breaking home debut within the MLS where Charlotte FC lost 1-0 to LA Galaxy. 
The fans of Charlotte FC flooded the home team's first game with light blue color shirts and scarves in the Bank of America Stadium to surpass the 1996 Carolina-Atlanta regular match attendance of 69,522. Further, the fans gathered and stalled in front of the stadium as much as four hours before the start of the game and deciphered that they have hung onto their hats and now the wait is finally over. 
The crowd cheered till the 90th minute even when at 77th minute, LA Galaxy midfielder Efrain Alvarez scored a stunning goal from 18 yards away. Although the day ended as a 1-0 loss for Charlotte FC, Kristijan Kahlina seemed overwhelmed as was about to start a game in front of five times more crowd in his entire life. 
Charlotte FC Loses On-pitch But Wins On Attendance
LA Galaxy has made 2 wins in the MLS out of their last two matches but last Saturday was all about Charlotte FC. The last top crowd attendance in the MLS was recorded in 2019 August when United played against LA Galaxy in a regular-season match. 
However, this time it surpassed 72,548. The Charlotte FC boss David Tepper greeted the fans by welcoming them to the largest party that Charlotte has ever witnessed. The club has induced several improvements in the Bank of America Stadium along with midfield tunnels, locker room, and player lounge. Further, a sum of 50 million dollars has been allotted as well for the enhancement of the stadium.