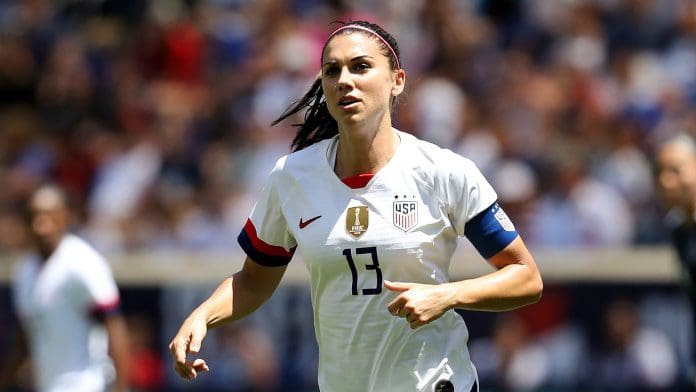 On Monday, the USWNT won its 9th regional title and, after several years of pushing for fair pay, began to see financial benefits.
The USWNT competed in its first match under the latest collective bargaining, which has the potential to make them the highest-paid national football team as per the CONCACAF W Championship, which served as World Cup and Olympic qualification.
The USWNT Players Earned More Than $120,000
Most American players made $120,000 over five matches, plus $ 26,000 for 2 friendlies before the tournament began. This amount comes close to matching the compensation they received under their previous CBA for winning the World Cup in 2019.
A star from the USWNT would have received 15,000 dollars in bonuses "in-game" during the Championship, as well as $37,500 for World Cup qualifying and 25,000 dollars for qualifying for the Olympics, for a total of 77,500 dollars under the 2017 agreement, which gave rise to complex legal disputes.
On top of $100k yearly pay for the majority of experienced ballers or a few dollars each game for "contractless players," players get $147,500 apiece for winning the World Cup in 2019 and $25,000 for placing third in the Tokyo Olympics.
The new CBA, which was approved this spring and pays American women nearly precisely on a level with American men, did away with basic pay in favor of giving women unheard-of per-game and World Cup incentives.
Because the USWNT and USMNT agreed, for the first time, to pool World Cup prize money and share equal 45% cuts, a USWNT player would stand to earn $70k in-game bonuses plus roughly $350,000 in World Cup prize money if they were to win the 2023 World Cup and the men were to advance to the round of 16 at the 2022 World Cup. (The remaining 10% goes to the US Soccer Federation.)
A gold medal in the Olympics in Paris the following summer would bring in an additional $112,000 to $132,000 for each player.
The total maximum reward for qualifying and both global tournaments will be in the neighborhood of $700,000 per player, which is a twofold increase over what it would have been under the previous CBA.
Base salaries aren't included in that comparison, but it also ignores large increases in per-game bonuses for friendly matches, which will more than make up for the absence of base compensation in the 2022 CBA. A USWNT player would have received $10,000 for two victories against Colombia in friendly matches under the prior agreement.