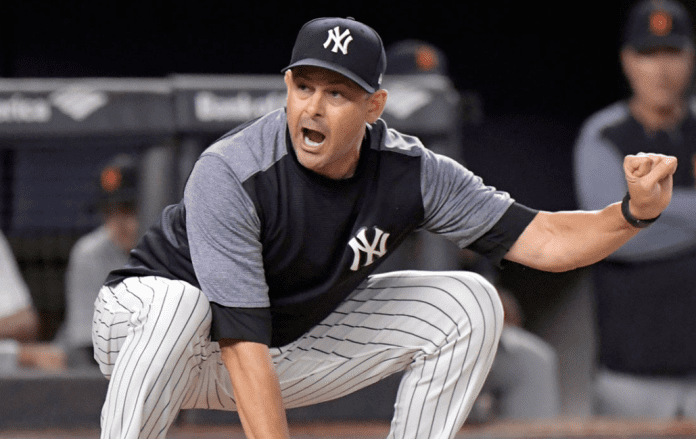 The Yankees have reached the postseason in all the years under Aaron Boone, which was for 4 years. The manager described every season as a cruel one as they failed to add another championship to their trophy case.
The recent losses have become quite difficult to digest and Boone stated that he wants certain changes that must be made as a necessity for the Yankees to advance deeper. He acknowledged the fact that his current contract would expire after the World Series. The Yanks had lost 6-2 against the Red Sox in the AL Wild Card Game.
Yankees Manager Talks About His Contract
Boone stated that his contract was up and he did not have any conversation with anyone about the expiry. He loved staying with the Yankees and also loved to work with the group of players under him.
The manager helped the Yankees gain 100+ victories in 2018 and 2019. He took the American League East with 103 wins, back in 2019.
New York finished 33-27 in last year's pandemic-shortened season, then won 92 games this year. This was the club's third second-place finish under Boone.
Aaron Judge believes that Boone was the right person to lead the Yankees to a championship. He added that the manager had several burdens on himself but he wore them with pride. He showed up to work every day and got them prepared in the correct way. He also kept everyone motivated and also gets on guys when required.
General manager Brian Cashman has said that he hopes Boone will have a decade-long run as the Yankees manager, pointing out that both of his previous skippers enjoyed stability once thought to be impossible in The Bronx: Joe Torre in 1996-07 and Joe Girardi in 2008-17.