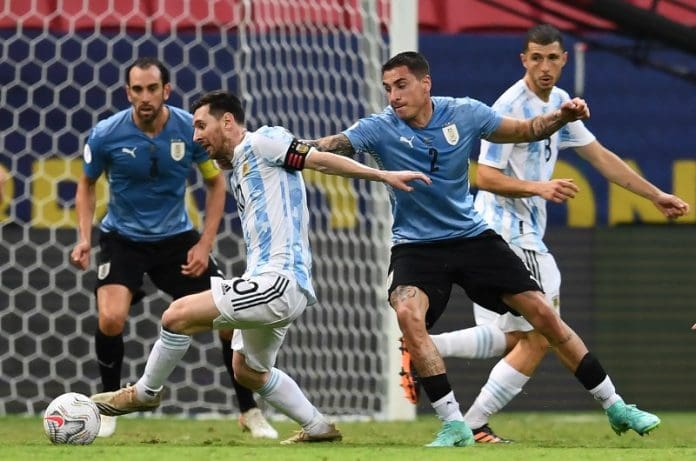 Argentina was assured of a spot in the 2022 Qatar World Cup following a goalless draw versus Brazil at Argentina's San Juan del Bicentenario. Lionel Messi gets one more chance to prove that he is up there among the greats of soccer.
Argentina was in second place but made it to the finals after Chile's 2-0 loss to Ecuador, in third place. Brazil leads the field and has qualified earlier, becoming 1st among the 4 South American direct qualifiers to the Qatar World Cup.
Few chances were created in a tough match as Argentina and world superstar Messi had a relatively off day and Brazilian Neymar was absent with injuries. Rival goalkeepers Alisson and Emiliano Martinez remained spectators for most of the match.
The low point was the controversial 35th-minute vicious deliberate elbow by Nicolas Otamendi that left Brazil's Raphinha bleeding and required 5 stitches at the break.
Argentina Was Hampered By Off Form Messi Recovering From A Knee Injury
Messi played the whole match, though the after-effects of the knee injury seem to have affected his performance. He had been on for only a quarter in Argentina's one-goal win over the Uruguayans so that he could be fit for the next match against arch-rivals Brazil.
Messi said that it had not o been easy to match the intensity that the game demanded. He got just a single opening from outside the box at the end of the game. The shot was easily saved by Brazilian goalkeeper Alisson.
Brazilian coach Tite was peeved at referee Andres Cunha and the assistants for missing the vicious found on Raphinha.
Since the Copa América semifinal against Brazil in 2019, they has maintained a 17-win and 10-draw record over their rivals. He said he was proud that Argentina qualified so early in such a tough qualifying group.