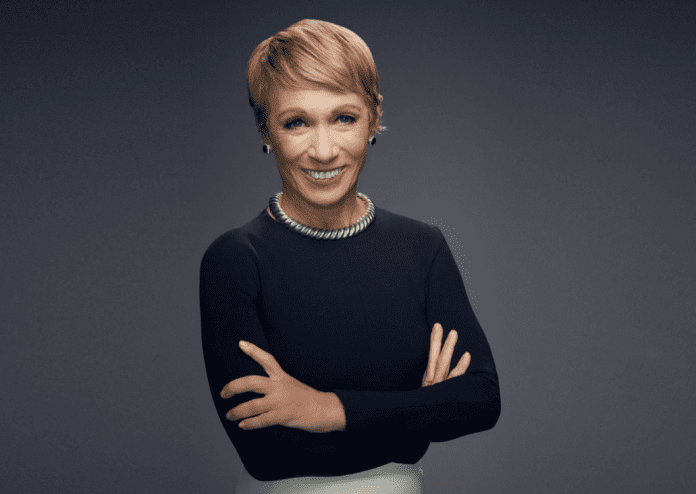 Barbara Corcoran had to apologize on Twitter after making a joke at the expense of Whoopi Goldberg appearing on Wednesday's episode of The View.
As the stars of Shark Tank were discussing Emma Grede, CEO and founder of Good American, the denim brand, Goldberg mentioned that she would have to try a pair of the brand's size-inclusive jeans. Barbara Corcoran butted in with an uncalled-for comment, telling Whoopi to give her the pair once she was through with them. She would make a couple of pairs for herself.
She got some stick from Ana Navarro, the co-host who told the businesswoman that both Jill Biden and Sarah Haines had already worn the dress she had on for the show, even as she tore up her notes.  
All that Barbara Corcoran could come up with is a lame 'that's not true.'
Barbara Corcoran Went Public With Her Apology The Same Day
Barbara Corcoran later went on Twitter that afternoon with an apology. She mentioned her long association with Whoopi Goldberg her 'old friend.' She mentioned the bad joke she had made earlier that day on the show. She admitted that she realized that it had not been amusing. She offered an apology, saying she wanted to say sorry to those she may have offended unintentionally.
Ana Navarro later tweeted the complete segment, tweeting her thanks to the team from Sharks. She said that she looked forward to a new season.
But others were not so willing to move on readily and stood up for Whoopi and Navarro. Many thanked Ana for standing up for Whoopi immediately, with one user saying that 'if you come for the Legend Whoopi, Queen Ana is gonna come for you!'
Others were more scathing, directly attacking Barbara Corcoran. Some told Barbara Corcoran not to play with weight jokes when it comes to Whoopi.