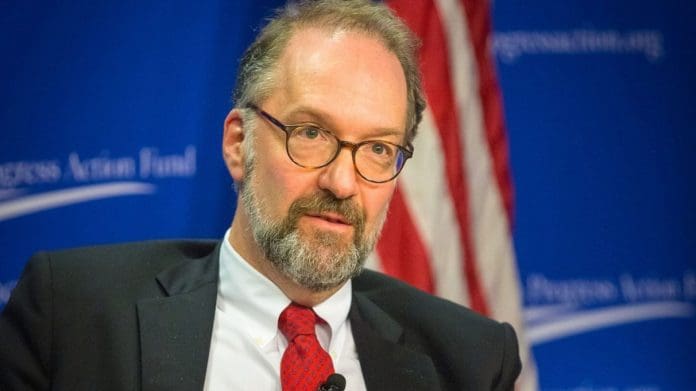 The Senate Homeland Security and Governmental Affairs Committee advanced several of President Biden's labor nominees to oversee federal workforce-focused agencies on Wednesday, albeit a handful will require Majority Leader Chuck Schumer's support to be approved.
By voice vote, four labor nominees to the Federal Retirement Thrift Investment Board, which manages the Thrift Savings Plan—Leona Bridges, Michael Gerber, Stacie Olivares, and Dana Bilyeu—and Krista Boyd, Biden's selection to head the Office of Personnel Management's inspector general—all passed. Senator Rick Scott, R-Fla., voted against all TSP board nominations, while Senator Josh Hawley, R-Kansas, voted against Boyd's appointment.
Manchin, Sinema, Kelly Reject Biden's Labor Nominee
On Wednesday night, the Senate rejected President Biden's Labor Department nominee after three Democrats joined Republicans in voting against him. A vote to advance David Weil's candidacy to oversee the Labor Department's Wage and Hour Division failed 47-53, even though a simple majority was required to proceed. Democratic Senators Joe Manchin (W.Va.), Kyrsten Sinema (Ariz.), and Mark Kelly (Ariz.) voted nay.
Sources earlier told Bloomberg that Manchin was privately voicing reservations about labor nominee, Weil, but spokespeople for the three Democratic senators did not immediately reply to a request for comment on their votes.  
The three senators were seen speaking outside the Senate chamber moments before they killed the nomination, according to The Hill. Sen. Patty Murray (D-Wash.), the head of the Senate's Health, Education, Labor, and Pensions Committee, expressed her disappointment in a statement following the loss. During the Obama administration, Weil was the head of the Labor Department's Wage and Hour Division.
But he's been met with tremendous resistance from Republicans and several outside groups, which lobbied Senate Democrats to vote against him.
Americans for Tax Reform, for example, has asked Sinema and Kelly to vote against him, claiming that it'd be a "disaster for Arizona employees, families, and small companies."