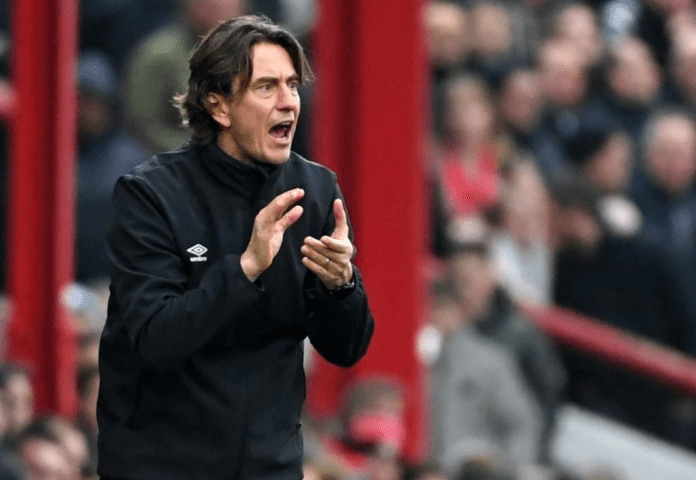 Thomas Frank has planned to name a pretty strong Brentford team for tomorrow's game against Oldham. They will clash in the Carabao Cup as he urged his side to avoid an upset.
Brentford knows about upset as they had eliminated 4 PL teams in the previous competition when they managed to reach the semi-finals. They were still in the Championship at that time.
Thomas Franks Warns Brentford About The Upset
Oldham is facing its own issues as the fans are protesting against their owner, Abdallah Lemsagam. Their team is also dealing with a long list of injured players.
The Bees are buzzing after beating Wolves 2-0, on Saturday, in the Premier League.
Frank had stated that nothing is easy in football.
There are always surprises and upsets in the FA Cup or Carabao Cup. Premier League clubs can be easily beaten by the League 2 sides and the same can happen the next day, as elaborated by Frank. Frank understands the situation that his team is the favorite to win but believes that Oldham can hurt them in several ways. They are prepared for this game as much as they were against Wolves. Frank intends to name a strong team to ensure that the win comes home.
The Brentford manager also stated that small things can change swiftly in the game of football. The win against Wolves gave them a morale boost but they need to be humble now and play well against their upcoming opponents.
The opponents are in turmoil and their fans are looking on with envy at their ownership and infrastructure.
He feels privileged to manage Brentford as they are completely aligned from top to bottom and there is a clear strategy. The owner and 2 sporting directors are all aiming in the same direction.
All the players are available for Brentford as there are no injuries in the camp. There will be some changes but the side will end up strong.