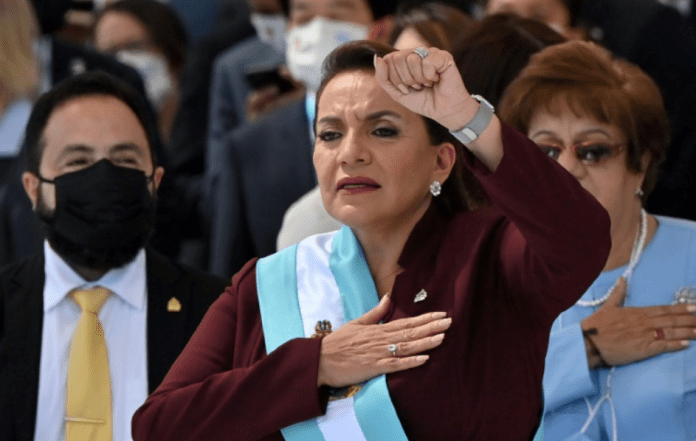 Xiomara Castro finally took the oath as the first female president of Honduras as a large crowd cheered on. US VP Kamala Harris was beside her and pledged American support to control migration and help fight corruption.
The inauguration of Xiomara Castro has ended the reign of one time US ally Juan Orlando Hernandez, who ruled for 8 years. He stands accused in US courts of links to the drug mafia and other charges of corruption.
Even as Juan Orlando Hernandez requited office, an American Congresswoman demanded his indictment and demanded his extradition.
Xiomara Castro was flanked by Manuel Zelaya, her husband and also the former President. She was sworn in inside a packed stadium with supporters applauding her assurance to bring down the huge debt burden of the nation.
A somber Xiomara Castro said in the inaugural address that she was inhering an unparalleled economic catastrophe unprecedented in Honduras' history.
Castro's administration also faces the task of uniting a sharply fractured Congress. Honduras' relationship with China has also been strained because of the country's diplomatic links with Taiwan.
US VP Harris Also Cheered At Xiomara Castro's Oath Taking Ceremony
Kamala Harris was cheered wildly when introduced at the inauguration. She congratulated Xiomara Castro for her victory in a democratic election.
The two leaders met immediately after the inauguration and the American Vice President promised to cooperate and collaborate on economic development and migration issues said she was supportive of Xiomara Castro's plans to approach the UN in setting up a commission to fight corruption.
The VP has been given charge by US President Joe Biden to address the root of the issue of migration from the Central American countries, especially the impoverished countries of the Northern Triangle.
An administrative official said that they intend to support the new president of Honduras. Xiomara Castro tweeted her appreciation for Kamala Harris's visit and the support extended by the Biden administration.
The US has also pledged hundreds of thousands of vaccine doses, 500,000 syringes, plus support for educational and health facilities worth $1.3 million.