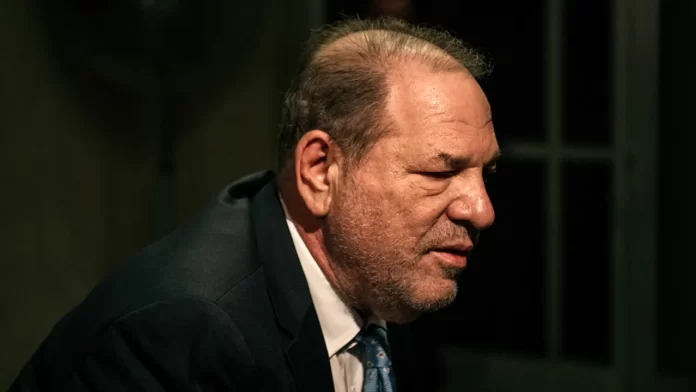 The Los Angeles jury found Harvey Weinstein guilty on Monday of the sexual assault and rape of just one of the four women he was accused of assaulting after a month-long trial and nine days of deliberations.
Five years after he first attracted attention from the #MeToo movement, the three guilty counts against a disgraced movie mogul involving an Italian actor and model identified as Jane Doe 1 at the trial nonetheless dealt a serious blow to him.
Weinstein, 70, who is now serving a 23-year term for a New York conviction for rape and sexual assault that is being appealed, may receive a sentence of up to 24 years in prison when he is sentenced in California.
Harvey Weinstein Is Currently Serving Time In Jail
He was convicted of rape, forced oral copulation, and a different sexual misconduct charge involving the lady who claimed he knocked on her hotel door unexpectedly in 2013 while attending a Los Angeles film festival.
After receiving treatment at a hotel in 2010, a massage therapist accused Weinstein of sexual battery. Weinstein was cleared of the charge.
In particular, allegations of rape and sexual assault against Jennifer Siebel Newsom, a documentarian and the wife of California Governor Gavin Newsom, were not decided by the jury because they involved two accusers. On those charges, the court declared a mistrial.
When the initial guilty charges were read, Harvey Weinstein seemed to cover his face with his hands and stare down at the table. As the remainder of the judgment was being read, he anticipated it.
George Gascón, the district attorney for Los Angeles County, praised the accusers for having the courage to testify in the case. He expressed disappointment at the jury's divided decision but expressed the hope that it would provide "some measure of justice to the victims."
The trial's most dramatic moments came during Siebel Newsom's compelling and emotional evidence, in which she detailed being sexually assaulted by Harvey Weinstein in a hotel room in 2005. However, just eight of the twelve jurors concurred that Harvey Weinstein was guilty of those charges.