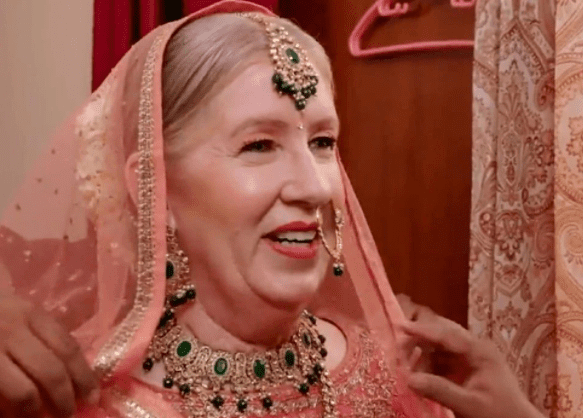 Here is one 90-day Fiancé marriage that looks made in heaven. Jenny Slatten and Sumit Singh are getting married at last. Fans were as floored as the groom at the traditional Indian attire donned by Slatten.
Jenny Slatten, resident of Palm Springs had been put down a number of times all through her 90 days Fiancé: The Other Way even since Sumit first cat-fished her back in 2012. The couple had been a permanent fixture on The Other Way ever since Season 1 of the reality show.
Fans found the 30 years gap between Sumit and Jenny unusual. Their backstory is just as interesting. Sumit, a call center employee, maintained a false relationship with Jenny Slatten for years before he finally revealed his true identity. But instead of breaking off, Jenny continued to maintain the relationship, finding Sumit cute.
Sumit Had Earlier Put Off His Marriage To Jenny Slatten Citing Various Reasons
Fans never expected Sumit to finally get married to Jenny Slatten as he had been putting off the marriage claiming one reason or another. At times he said that his parents disapproved of the marriage, while at other times he claimed that he was afraid that Jenny would end up as controlling as his first wife.
Sumit even placed the legal part of the marriage on hold, not bothering to inform Jenny Slatten, angering fans of the reality show. It made Jenny get ready to return to the US before it all changed between Jenny Slatten and Sumit during the finale of the show.
A promo clip has Jenny Slatten dressing up in gorgeous Indian attire for the traditional wedding. She was overwhelmed with her attire and shed tears on catching her image. A crew member assisting her commented that she looked like a queen. Fans commented that it was the most stunning wedding dress that they had seen. They wished that Sumit's parents did not play spoilsport this time around and halt the wedding.