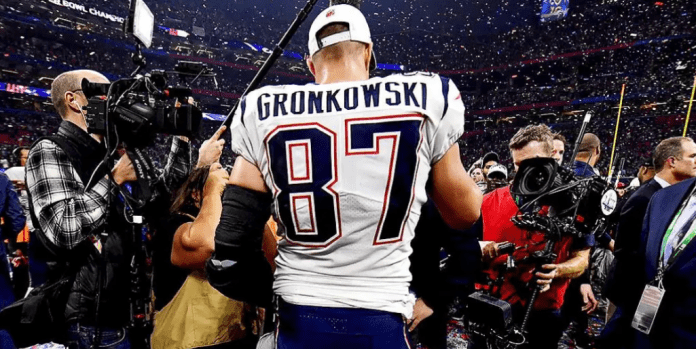 Rob Gronkowski who is the Buccaneers tight end had returned to the field after a brutal hit. He needed an X-ray after the match on Sunday.
The X-ray report came up to be negative and he was considered to be fine. This statement was made by the coach Bruce Arians in a postgame conference.
Arians Confirms Rob Gronkowski Had An Injury
Arians made a confirmation to the fact that Rob Gronkowski had taken X-rays of his ribs after a hit from LA Rams LB Terrell Lewis. Bucs had lost the game 34 to 24. The coach did not provide any additional information on how Rob Gronkowski will be made available for the practice sessions and the game on Week 4 in New England.
He caught a 6-yard pass in the 3rd quarter when Terrell drilled him. He left the field towards the locker room for further examination but returned to the field after some time. The Rams had a 21 to 14 lead in the 3rd quarter.
Rob finished the game with 4 catches for 55 yards and no TDs to his name, on 7 targets. He managed to catch 12 passes for 129 yards and 4 TDs in the first 2 games.
Despite facing a down, Rob Gronkowski owns the second-highest Pro Football Focus grade among tight ends 90.2 behind Kansas City's Travis Kelce's 92.2.
The Bucs saw their RB Bernard injured too. He injured his knee on a 7-yard TD catch late in the 4th quarter.
Arians stated that he looked fine and might face swelling on the knee on the place. He considered these to be the worst things to happen in 6 hours on a plane as they swell more than normal. Bernard managed to finish with 9 catches for 51 yards and 1 TD to his name.