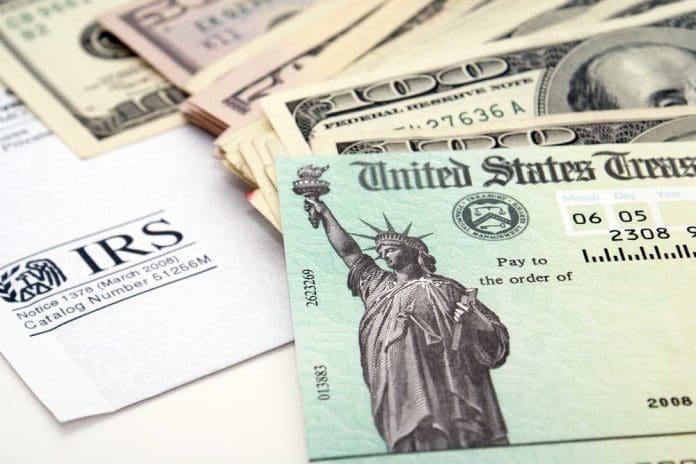 Thousands of Americans are about to get lucky. Several States have decided to send out stimulus checks to their residents. The State stimulus checks will go up to $1500. The stimulus checks are issued as a state-funded aid program or tax rebate. Numerous factors will impact the amount of money that you will obtain from the state. Your marital status, dependents, and annual income are a few factors. However, not every resident will be eligible for the stimulus checks. Continue reading to find out if your state is offering a stimulus check and if you qualify for it.
Will Your State Be Sending A Stimulus Check?
Georgia
As per the Georgia Department of Revenue, Georgia residents will get money this month from a surplus tax refund. The extra funds will pay $250 to unmarried taxpayers, $375 to individuals who are the primary breadwinner, and $500 to couples filing together.
To be eligible the applicant must have submitted a personal income tax return for tax years 2021 and 2022 and be a Georgia homeowner, part-year citizen, or nonresident in order to qualify for this stimulus check. Those who filed their returns correctly by the deadline of April 18 should expect to wait up to almost eight weeks for their refund. You have the option of checking the status of your rebate by visiting the official site.
Maine
Back in January 2023, Maine started an Emergency Winter Energy Relief Plan. Individual taxpayers will receive $450 and couples filing jointly will receive $900. The State announced that they had mailed out all the Stimulus checks by March 31. So, if you are anticipating a check and have not welcomed it, please email the Maine government. You can also track your stimulus check.
New Jersey
Most of New Jersey's funds from the Affordable New Jersey Communities for Homeowners and Renters program have already been distributed. If a homeowner's AGI falls between $150K and $250K, they will receive a stimulus check worth $1,500. If the AGI falls below that, the families will receive $1,000. While receiving $450, tenants receive a small portion of what the homeowner peers do.
Over 1.7 million New Jersey citizens had submitted applications by the end of March 2023. Based on a declaration from Governor Phil Murphy, the majority of the payouts were made before May 3.
New Mexico
Mid-June is when New Mexicans may expect their tax refund. As reported by New Mexico Taxation & Revenue, the stimulus checks will total $1,000 for couples filing together and $500 for single filers.
"Prices for basic essentials remain exorbitant across the country," stated Gov. Michelle Lujan Grisham (D-NM). "It's vital to know that New Mexico's families benefit from the success that the state is currently enjoying financially." Residents of New Mexico must have submitted a 2021 individual tax return before May 31, 2024, in order to be qualified for this reimbursement. 
San Diego
The $4,000 relief payment application period for Americans has just begun. Jewish Family Service, a charitable organization, is funding the stimulus check. The Recovery Action Fund For Tomorrow (RAFT) has been established for low-income San Diego, Californians.
It wants to help people who "suffered severely by the Covid-19 pandemic," according to a message from administrators of the program. You must fulfill the income conditions in order to be eligible for the stimulus check.
-The household income must be below 200 percent of the poverty level set by the federal government. For example, an individual must earn below $30,000 to be eligible, Similarly, a 4-member household must have an AGI of less than $60,000 to qualify for the stimulus check.
-Families with children under the age of 18 and seniors over 55,  and with disabilities are qualified for the RAFT program.
-You are qualified if you satisfy the income conditions. You must reside in one of the thirty-nine zip codes in San Diego County: 91915, 91901, 91948, 92058,91980, 92110, 92083, 92173, 91905, 91950, 91917, 92004, 92084, 92060, 92113, 91906, 92259, 91934, 91962, 92066, 92020, 92086, 92536, 91910, 92114, 91963, 91935, 92070, 92027, 92139, 92102, 92672, 91945, 91977, 91911, 92055, 92105, 92081, 92154.
You have to file an online application if you fulfill the above-mentioned criteria. The last date to submit the application is May 21. The Jewish Family Service also has multiple in-person sites to provide assistance to those who can't fill out the online form. The sites will be available between May 16-May 19. The list of locations is available on their main site. You will have to submit documents backing your claim. If you are selected you will receive a stimulus check worth $4000.
What Are The Other Stimulus Checks Being Offered?
There are other locations where Americans might find solace outside San Diego. Alaska will start paying out the Permanent Fund Dividend in a few days. Depending on what year individuals were due money from, they are entitled to a stimulus check worth between $1,114 and $3,284. If the PFD form shows "eligible-not paid" on May 10, you are qualified to receive money on May 18.
A refund of up to $500 in income taxes has been authorized by Georgia. You have to have submitted taxes for the years 2021 and 2022 and be living in the state, to be eligible for this year's reimbursement. You can anticipate receiving your money by July 1 if you were able to file by April 18 or earlier. Governor Brian Kemp stated a few days ago that the initial batch of rebates had begun to be distributed.
The governor of New Mexico, Michelle Lujan Grisham, also passed a substantial tax relief plan into law. It will give the residents a stimulus check worth up to $1,000. Based on the Governor's office, over nine hundred thousand taxpayers are waiting to be paid. Beginning in June, the refund distribution procedure.
Currently, most Americans are struggling due to the high prices thanks to the soaring inflation rates. The inflation rate is at its highest in over 40 years. The federal government has confirmed that no stimulus checks will be issued again. However, the State governments are stepping in with their self-funded stimulus checks in order to support their residents. Keep checking to see if you are eligible to receive a State Stimulus check.