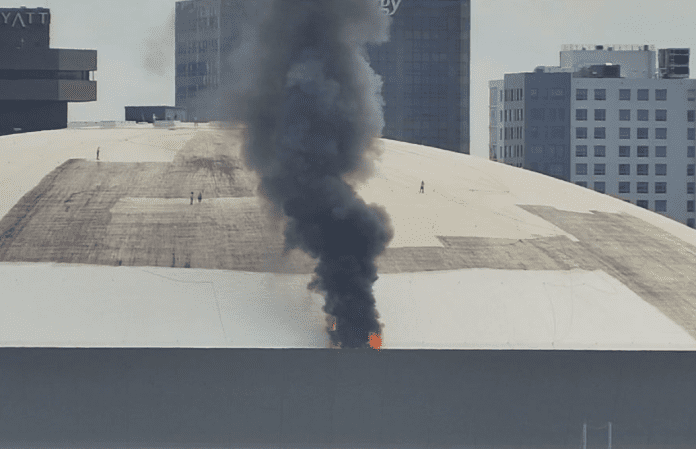 The roof of the Superdome caught fire and smoke rose up on its sides on Tuesday. A pressure washer was being used to clean the roof when it caught fire.
The New Orleans FD confirmed that firefighters responded to the flames on the roof after 12:30 pm and were under control after a while.
Superdome Caught Fire Because Of A Pressure Washer
The New Orleans Emergency Management Services stated that they had to transport a person to the hospital who had suffered minor burns. Officials warned the people to stay away from the Superdome.
Crews were power washing the roof to prepare it for further painting. It was found upon investigation that a pressure washer was used to clean before it caught fire. The damage assessment is still being done. The dome is currently governed by the Louisiana Stadium and Expedition District who were addressing this information.
Only a small area of the Superdome suffered damage as the fire was contained to the external gutter systems. Pressure washing was implemented to clean the roof before re-coating that entire roof. All the fire damages will be addressed when the roof is re-coated.
The damages were assessed to be superficial and no structural damage was observed. The integrity of the roof's skin was intact and it was watertight.
The New Orleans Saints(NFL) have regularly played at home at the venue and drawn capacity crowds. The Superdome also has been the site of 7 Super Bowls in recent history and was also used for concerts, college football, and other events.
The Superdome was used as a shelter in 2005 for the people who were unable to evacuate the city before Hurricane Katrina struck. The building housed up to 30,000 people seeking shelter but it could not withstand the storm's impact.