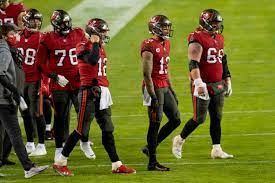 The Cowboys has released Elliott and Tampa Bay Buccaneers probably will become his landing spot for this season. Tampa Bay despite popular belief are having a great offseason. They emerged from nowhere to resign Jamel Dean, their star cornerback. They have also signed some amazing players like Baker Mayfield who will now compete against Kyle Trask to get the top spot in the team list. So overall, the Bucs are enjoying an offseason that was supposed to be quiet become quite efficient.
However, it looks like Tampa Bay Buccaneers are not done yet. Elliott, cut ties with the cowboys and was a free agent. However, experts never saw Bucs going for the transfer as they are known to be low spenders in the game. However, the Tampa Bay Buccaneers surprised everyone with the signing.
Will Elliott Be The Perfect Fit For Tampa Bay Buccaneers?
It might seem a little strange. However, it makes a lot of sense after you look at the more in-depth stats. Tampa Bay Buccaneers hired the running back coach from the Cowboys to fix their players in that position. Now many players love their coaches, and coaches like to rely on players they are accustomed with. So, bringing Elliott from the same team might make it easier for the coach to complete half his task in the team before the beginning of the season.
The transfer of Fourentte was according to the plan of Tampa Bay Buccaneers. However, that created a huge hole in the team depth. Despite having a substitute in Rachaad White, Bucs might miss the presence of Leonard Fourentte in that position. So, bringing Ezekiel Elliott into the team sheet can solve a lot of their problems easily.